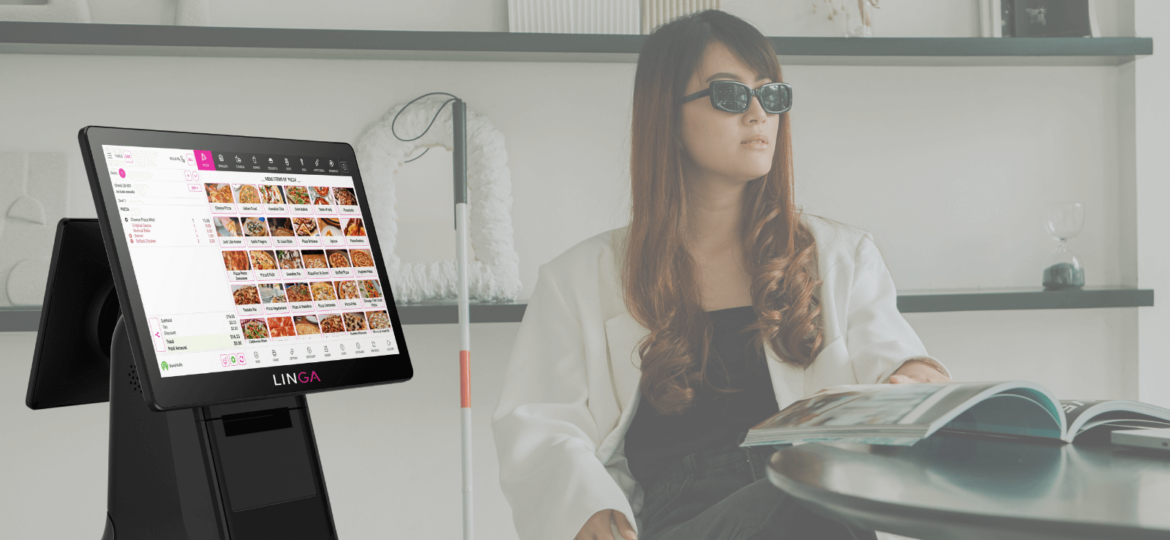 The National Federation of The Blind reports that in the United States, there are over 7.5 million individuals who have a vision impairment. Ensure that your point of sale system is accessible to all of your patrons, with voice support for order taking.
Visually impaired customers can benefit from voice support when interacting with your POS system, as it provides verbal instructions to facilitate the ordering process. This ensures that all users can easily engage with your point of sale and complete their orders with confidence.
With LINGA's Allure Terminal, customers can utilize voice support through our Customer Facing Display, providing helpful instructions to make the ordering process smoother, allowing all users to interact with your POS system, regardless of their sight ability.
For your floor staff, the main screen enables voice support when taking orders, voiding items, and when reviewing order totals during checkout. Enabling these features is imperative to ensure everyone has a positive ordering experience at your restaurant from both a customer and staff perspective.
LINGA's Voice Support Reads:
Item names and modifier names that are placed in the order.
Menu item when it is voided.

For example, the POS would state 'Voided Burger' aloud.

Check when it is voided.

For example, the POS would state 'Voided Check' aloud.

Total amount when the 'payment' button is selected on the order screen.
The implementation of an accessible point of sale system for visually impaired individuals not only increases accessibility and inclusion in the workplace but also fosters a more welcoming environment for all employees and diners alike.
By setting up a POS with these features, restaurants can now seamlessly serve all diners and provide an elevated ordering process overall. Learn more about LINGA POS and our Allure Terminal with Customer-Facing Display today.