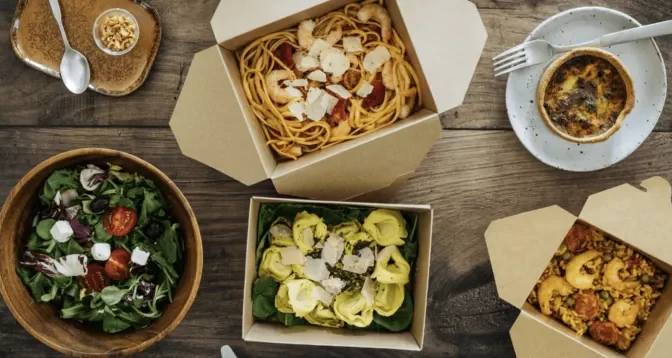 Nowadays, more and more customers want to dine at restaurants that are conscious of their carbon footprint and aim to be more eco-friendly. The thought of going green can be a daunting process, but there are a lot of small steps you can take that will go a long way. In this article, we will discuss five ways your restaurant can become environmentally friendly.
According to a recent study conducted by Deliverect:
66% of consumers feel it's important that restaurants are open about their practices to limit food waste.
51% of respondents said seeing large amounts of food waste frustrates them.
73% said that having accurate portion sizes to avoid food waste is vital to them.
54% of consumers prefer to order from restaurants that remove excess packaging from food delivery.
56% would also prefer a restaurant that uses eco-friendly packaging and doesn't use single-use plastic.
The first step in making your restaurant more eco-friendly is to replace all of your plasticware with sustainable takeout solutions. Molded pulp is an excellent substitute for plastic and can hold larger volumes of food than its counterpart. This will also show your customers in a tangible way that you are making steps to be more sustainable.
Utilize New Technology:
Receipt paper is not only wasteful but expensive. Cut down on printing paper with pay-at-the-table technology. With LINGA Go, for example, you can let customers order, pay, and tip all from their table. This cuts down on receipt waste and can improve table turns. With your customers able to order and pay when they want, servers can be more efficient with their time, elevating the guest experience. If diner would like a copy of their receipt, LINGA Go provides an email option as well.
Another solution that can reduce paper consumption is QR technology. QR code menus are a quick and inexpensive way to make your restaurant more environmentally friendly. Now, you never have to worry about having enough menus or preprinting new ones after a menu change. 86ing a menu item has never been easier.
Buy Locally in Bulk:
On average, "it is estimated that meals in the United States take 1,500 miles to get from farm to plate." When purchasing from large distributors, you will have a much larger carbon footprint and run into expensive shipping fees that can add up over time. By buying food locally, you can save your restaurant money in the long run while diminishing your carbon impact.
Buying locally also helps the community around you. According to Restaurantware, an eco-friendly restaurant supply chain, "keeping ingredient shopping local is a great way to minimize the waste your restaurant's kitchen produces. Buying bulk from long-distance suppliers or regional distributors can mean that a portion of your ingredients will go bad before you can use them, due to extended travel times and larger qualities, resulting in a loss for your business's budget." Not only are you supporting local farmers, but you're also receiving fresher food, improving your restaurant's quality overall.
Consolidate Delivery:
Between 3rd party aggregator fees and gas prices, food delivery can be a stressful sector of the restaurant industry. With LINGA Driver, you can consolidate your deliveries and optimize your directions to reduce mileage and improve delivery time. This decreases your carbon footprint and allows you to keep better track of your drivers.
Grow Herbs in Your Restaurant:
Growing herbs your kitchen regularly uses is another way to go green while elevating the customer atmosphere. Segev Kitchen Garden, as seen below, has embraced this idea and takes kitchen herbs to the next level. The restaurant is purposely designed like a greenhouse, with herbs displayed in pots around tables and hanging from the ceiling. All of the herbs are used by Segev's chefs and provide an added ambiance.
Read about: How to Make Your Restaurant Eco-Friendly