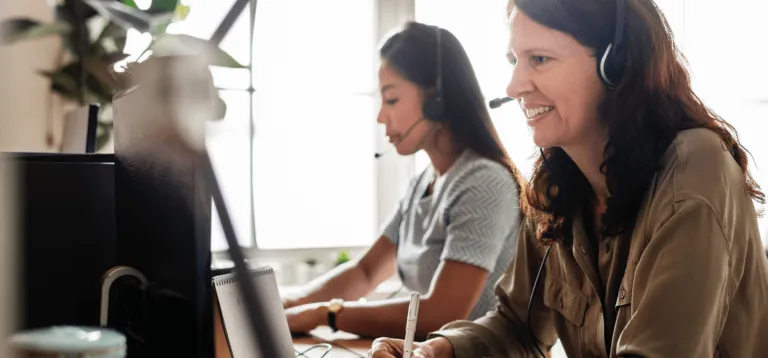 Now more than ever, with the recent increase of technology within the restaurant industry, customers do not want to be put on hold. A study from Velaro asked their respondents how long they were willing to wait on hold. Their study found:
32% of respondents were not willing to be on hold at all.
27% are willing to wait up to 1 minute.
30% are willing to wait more than a minute.
With a staggering 59% of customers hanging up after being placed wait on hold for a minute or less, restaurants are missing out on a lot of business.
How do you take calls during a dinner rush when your pizzeria is short-staffed?
Part-time staff working from home could be the answer!
Staff answer calls and place orders directly into your store's Restaurant POS system working remote or from a central office, streamlining the entire process. Now, your restaurant can leverage a high volume of calls and never miss a beat. Not only does this allow restaurants to increase their sales, but it also lets callers know that you value their time.
Microsoft research found that 69% of consumers say customer service is very significant for their loyalty!
Customer loyalty is a huge driver, so being placed on hold can mean the difference between a long-time loyal customer and a lost customer.
Create a Command Center for Customer Satisfaction
LINGA's command call center will completely revolutionize the way your restaurant takes phone orders and handles customer inquiries. With call center staff working remotely or from a central office, orders are placed directly to the store's POS and guests are quickly satisfied by:
Adding items to a pending order when customers call back
Discounting or voiding an item when customers call back
Answering when will my order be ready, when customers call back
Answering when will the driver be here, when customers call back
The LINGA rOS Command Call Center
provides the technology your guests are demanding including:
Commission Free Online Ordering
Online Loyalty Rewards & Redemptions
Online Gift Cards & Redemptions
Curbside Pick-up with Order Ready Alerts
Delivery Driver Tracking with Guest Alerts
In-store Loyalty Rewards & Gift Cards
QR Code Menu Access, Ordering & Payments
Table-side Ordering & EMV Payments
Personalized Text & Email Marketing
The cloud-based LINGA POS technology solution
provides the functionality you must have to grow including:
Automatic delivery quote times based on pending deliveries & available drivers
Automatic pick-up quote times based on kitchen productivity & order volume
Staff Debit Cards for Tip Pay-outs
Digital waitlist with guest text alerts
Kitchen and driver productivity analytics
Central Kitchen – Warehouse
Gift Card & Royalty Reconciliation
Food & Beverage Inventory management
App based Management Reporting
Staff, Kitchen and Guest Analytics
Staff, management & guest alerts
Timekeeping with Payroll Export
Auto-pilot Marketing Campaigns
Multiple Location Reporting & Management
Why Buy 10-separate solutions?
LINGA rOS provides a complete restaurant technology system!
LINGA's rOS solution includes the unique functionality only available with a cloud-based multi-location restaurant point of sale solution with access to essential tools and data managers must have to stay completive, start taking more orders, increase your sales and profits with LINGA.