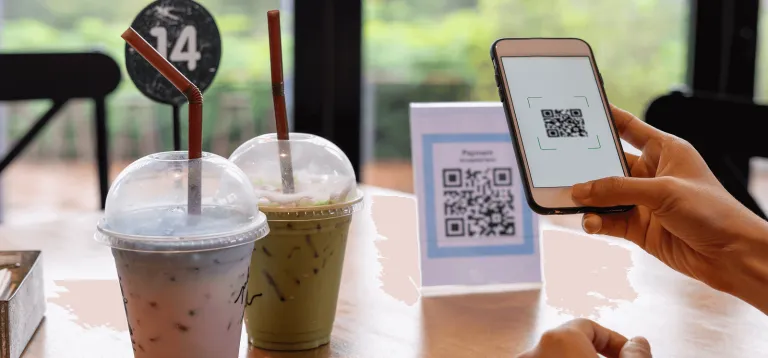 In Hospitality Tech's 2022 report, restaurateurs were asked, "what are the business drivers impacting your next POS upgrades?" 64% of respondents stated that new payment options, like QR pay, were their top drivers. With the steady increase of consumers using this payment solution, if you haven't implemented QR codes in your restaurant, now is the time. In this article, we will cover the top benefits of QR code technology and how it can improve your restaurant business.
Improve Table Turnovers and Customer Satisfaction
One of the best aspects of this technology is the convenience it offers your restaurant customers. Diners can now view your menu, order, and pay all from the comfort of their mobile device. This, in turn, provides faster table turnovers and lets floor staff focus more on the customer. In the event of a lunch or dinner rush, guests waiting to be seated can scan and peruse your menu, leading to an elevated dining experience.
Increase Revenue and Cut Costs
According to a recent Deloitte study, consumers spend up to 20% more when ordering via technology. By adding this convenient payment option to diners, your restaurant can start earning more revenue. When you utilize QR code digital menus, you can seamlessly add or 86 any items without having to reprint an entirely new set of menus. Now, with customers paying through their phones, you can also reduce your receipt printing costs, making your brand seem eco-friendly in addition to being tech-savvy and cost-effective.
Staff Shortage Solution
QR code technology makes staff more efficient, during the ongoing labor shortage, by giving the controls over to the customer. By providing your diners with the ability to look at your menu, pay, and tip, you're saving servers precious time they can better use to serve your restaurant guests. Instead of running back and forth from table to cash register, the customer can now streamline the process by paying through their phone.
Stay Ahead of the Tech Curve
A recent study from Juniper Research predicts that the use of QR Codes for electronic payments will increase by 240% from 2020 to 2025 in the US alone. Implementing this technology now will help your restaurant stay ahead of the tech curve and competition while giving your guests the added convenience of QR.
LINGA's QR Module is fully integrated with our point-of-sale system, so you can easily access important information about each order whenever you need it. Once your diners have finished their meal and are ready to pay with QR, you can offer them rewards and loyalty promos to keep them coming back.
QR technology keeps your guests satisfied with fast access to your menu, the ability to pay digitally, and linked loyalty programs to reward customers. Implementing QR codes into your restaurant will elevate your guests' experience, improve restaurant efficiency, and increase revenue. To learn more about QR technology and the other modules LINGA rOS offers, click here to speak with one of our POS experts.