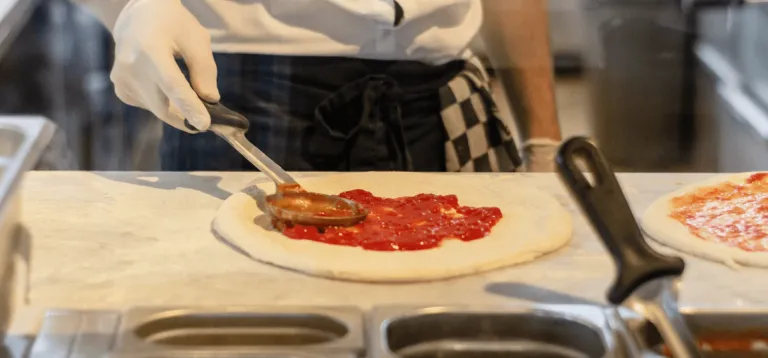 According to Hospitality Tech's 2022 report, 24% of restaurants plan to change POS system suppliers, with an additional 15% planning to upgrade with their current POS provider. As cloud point of sale systems become more popular amongst restaurants and pizzerias, it can be challenging to determine which system fits all your specifications. This article will cover the top five must-have features your POS needs to run an efficient and lucrative pizzeria.
Pie Modifiers
If there's one thing about pizza, it's that everyone likes theirs differently. When determining what POS to choose, ask what modifiers they provide for your restaurant type specifically. Pizzerias, for example, should have modifiers that allow diners to customize their pie. Not all systems are built the same in this aspect. Most POS systems only allow for half of the pie to be customized, unlike LINGA, which offers modifiers down to the quarter.
Call Center
A call center is the best solution for pizzerias who want to increase order intake and improve customer service without overwhelming floor staff. For regional chains or pizzerias looking to expand, a call center is vital because it streamlines the ordering process, creating a sustainable system you can replicate at all of your locations.
With a typical call center integration, customers call a number that directs them to an off-campus third party. The problem with this process comes when a customer calls to change or add to their order. In that case, the agent must reach out to the pizzeria, inform them of the change, and then an employee on the floor must manually fix the order. This provides a problematic middle man that can do more harm than good.
With LINGA's Command Call Center, someone remotely answers and takes the customer's order. That order is then sent directly to your point of sale system and into your kitchen display system, where your cooks can get started. Now, when a customer calls into place or changes their order, the agent can add, void, and apply coupons all remotely. Even in the age of online and mobile ordering, call center integration is a powerful tool to have at your disposal. When customers call, let them know they are valued, with a live operator ready to help.
Online Ordering
According to a recent Deloitte study, 40% of consumers prefer to order online and spend 20% more when ordering via technology. Increase revenue and meet customers where they are with an online ordering site and mobile app. This is the best way to make your restaurant visible to a broader audience while providing the convenience of ordering from the comfort of their personal device. With LINGA Online ordering, our team will create a custom branded website and mobile application so that you can control the look and feel of your brand. Especially if your pizzeria is a regional chain or looking to expand, having command of your brand's look and feel is crucial.
Delivery Solutions
With more customers ordering for delivery than ever before, it's imperative to have an organized delivery system in place. The best solution is to utilize integrations that automate and streamline the delivery process, such as:
Deliverect: this integration provides an all-in-one solution to sell your food online by aggregating all of your delivery applications into one place on your POS system.
DoorDash Drive: this integration provides drivers on-demand in exchange for a flat monthly fee. Now, during peak hours, your pizzeria can service more customers in a timely and efficient manner.
Having your own delivery application can be helpful, too, if your pizzeria wants to stray away from 3rd party aggregators. LINGA's Driver app, for example, directs drivers on the fastest out and allows for driver tracking, so you know what stage every order is at.
Loyalty Rewards Program
A study conducted by Formation found that 73% of consumers are more likely to engage with a brand that offers loyalty versus one that does not. A loyalty rewards program is a great way to let your customers know that they are valued while gathering critical insights into their consumer behavior. When deciding on a POS, make sure they have a loyalty program that works in-store and online. With LINGA's loyalty program, you can give customers access to view and redeem points when they check out online and in-store. You also get to determine the set spending price customers must reach in order to redeem their points, putting the reigns back into your hands. With more customers requesting loyalty programs, now is the time to implement them.
Deciding on a point of sale system is an important decision for any pizzeria. With LINGA rOS, pizzerias gain access to all of the features mentioned above. In addition, we have worked side by side with integrators to provide your pizzeria with the necessary tools to succeed. Our pick-up lockers, for instance, keep pizzas warmer for more extended periods of time so that guests can enjoy their meals no matter the time of pick-up. Stay ahead of the competition and increase revenue with a point of sale system built for your pizzeria's needs. Try LINGA pizza POS system for your pizzeria shop business.
Relevant Resources:
Opening A Pizza Restaurant Cheat Sheet
How to Choose a Pizza POS System
Now That Everyone is Ordering Pizza, How Do You Keep Up with the Demand?