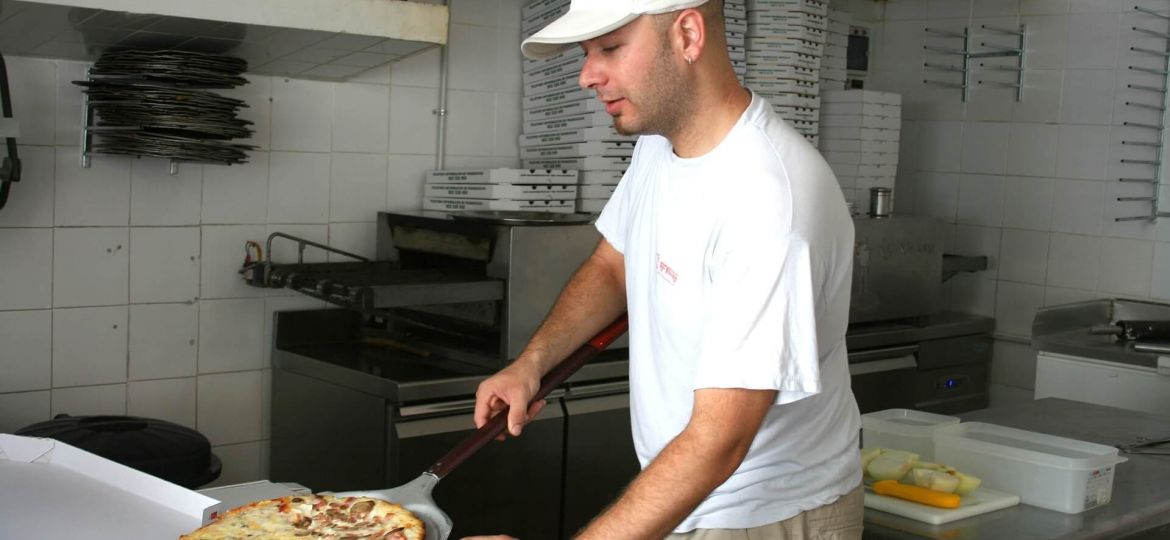 Thinking about opening a pizza restaurant? Not sure where to begin? The pizza restaurant concept has been around for a very long time. Pizza started in Italy and was first documented in AD 997. It later grew when tomato was added in the late 18th century. Pizza really didn't leave Italy until after World War II. Today, the pizza industry is a major powerhouse in the food industry. According to Technomic's Pizza Consumer Trend Report, pizza consumption is at his highest level since 2012. Everyone loves pizza, and it's probably due to the various ways it can be made. Thick crust, thin crust, pepperoni, sausage; people like having choices. Even though the pizza industry is on an upward trend, there are some things you should consider if you're thinking of opening a pizza establishment.
Franchise vs. Independent
Are you unsure of starting a pizza restaurant as a franchise or an independent? There are pros and cons to owning both. With a franchise, you get a brand, and other resources to help get your restaurant started and maintained. Where an independent pizza restaurant, you get more freedom and entrepreneurship to design your business as you please.
Research shows that the franchise pizza industry has been out-performing the independent pizza restaurant for a while now. That doesn't mean if you decide to open an independent pizza restaurant, you won't have success. It just might mean you have to invest in some of the customer resources that bigger chains have.
Recipes
Don't limit customers to what they can get on their pizza. Just having cheese and pepperoni on your menu will only get you so far. Also consider adding side items and maybe some salads for people looking for additional options. While having a full and robust menu can be exciting to think about, it's important to look at the cost relationship. There are many Pizza POS systems out today that automatically change menu items and prices as you make changes at the ingredient level.
Delivery
Online ordering has vastly grown over the last few years, and having a delivery option can be a big revue driver. The first step in having a good pizza delivery system is taking care of all licenses, permits, and insurance. There can be increased liability for restaurants that have a delivery system and motor vehicles are involved. In case someone crashed into the delivery boy, and the motorcycle is severely damaged, the owner of the business can consider hiring Missouri motorcycle accident lawyer for they will discuss your legal options for recovering compensation for your injuries caused by others. Next, you want to organize staff drivers and decide if you will be providing transportation or if the employee will. It can run more affordable if you have the employee use their own car. Finally, ensure you have a good system for order accuracy and packaging. Remember sending orders back really doesn't happen for delivery restaurants.
Advertising
The pizza restaurant industry has sales that continue to climb year over year. That means competition continues to grow as well. Pizza is one of the few types that you can order in store, online, over the phone, or straight from a mobile app. That means there is a lot of advertising real estate space for your customers to reach you. If you are on a tight budget, try starting with social media and go from there. It's not always how much you spend, but how you get your name out there.
Customer Loyalty
Enacting customer loyalty programs will keep your customers coming back for more. Big pizza chains send out millions of coupons and flyers on a daily basis. They also promote these events on TV, social media, etc. Even Dominos is giving out stock in their company to promote more customer loyalty. It's a good idea to have loyalty programs that give you data, are offered online, offer a short-term plan, and are personalized.
Technology
In the last few years, one of the biggest failures for independent or small restaurant chains is their inability to adapt to new technologies. Big players like Pizza Hut and Dominos continue to process more and more revenue using their extensive digital platforms. Today there are many point of sale systems that include different functionalities for an independent pizza restaurant to compete on a global level. Some things to look for would be driver management, pizza topping management, speed, delivery management, online ordering, and coupon organization. A pizza joint is not just a restaurant so it's important to look for customizable features in a cloud pizza POS software.
Customer Service
Ever received your pizza at least an hour after it was promised to be delivered? Did you ever get a good reason as to why it happened? The customer experience is vital to owning a successful pizza place. Good customer service can boost word of mouth and improve the overall experience of your pizza restaurant. It's important to train you staff on being cordial to the customers, and having your staff promote an overall positive environment.
Costs
No matter what type of restaurant you are starting, costs can run high. Such costs can include cooking equipment, advertising, theft, or additional staff expenditures. You also can't 100% say how your pizza restaurant will perform within its first few years of business. If you spend a lot on startup equipment, you could be using your first year's business paying back loans.
Relevant Blogs:
Top 5 Must-Have Features for Your Pizza POS Systems
How to Choose a Pizza POS System
Now That Everyone is Ordering Pizza, How Do You Keep Up with the Demand?