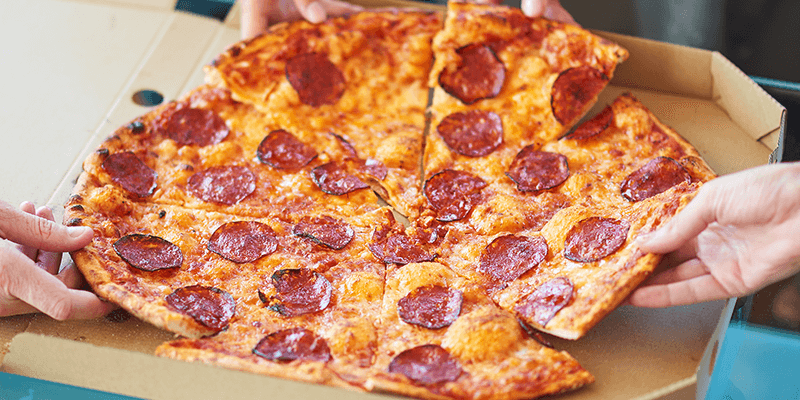 Meet the best cloud pizza solution in the world!
It is clear from the past few weeks that COVID-19 continues to change the restaurant industry in unprecedented ways. While restaurants that depend on customer-provider interactions are shutting down all over the world, survivors are the ones that prepare their business for the post-COVID-19 world and make a quick transition.
And this transition is "food delivery."
Online ordering and delivery options in the restaurant industry are blooming. According to a recent Datassential report, 21 percent of restaurant traffic is now through delivery.
According to the National Restaurant Association's 2020 consumer trends, 52% of consumers say purchasing takeout or delivery food is essential to the way they live.
The demand for easy ordering and delivery process is rising in younger segments of consumers as well. A November 2019 study by eMarketer Retail found that 36% of U.S. internet users ordered restaurant delivery in the past year, the majority of which were those under 35.
Food delivery creates a safe social distance between customers and delivery drivers while allowing restaurants to keep their business flowing. And more and more consumers are shifting towards using delivery services to get safe restaurant food. But especially one type of food delivery seems to be growing during the coronavirus crisis. From big chains to independent ones, pizzerias are the only restaurants that keep hiring more people to meet the increasing demand for delivery during these chaotic times.
The pizza market is growing rapidly
According to the Global Pizza Market Insight, Trends and Forecast Report, the global pizza market is forecasted to reach $233.26 billion in 2023, growing at a CAGR of 10.17%, for the period spanning from 2019 to 2023.
According to Euromonitor international 2019 report, the American pizza market has reached $45.73 billion and the number of US pizzerias reached 76,993.
According to PMQ's 2018 Industry Census, 60.47% of respondents reported an increase in sales over the previous year. Internationally, pizzerias are thriving, with a five-year forecasted growth rate of 10.7%.
According to a Technomic study, 83% of consumers eat pizza at least once per month.
In the same report, when asked what foods consumers want from restaurants during the COVID-19 crisis, 63 percent said they want PIZZA.
And American pizza chains conquering the world
Although the pizza industry has a lot of competition worldwide, things are even harder in America. The big pizza chains are planning to hire over 60,000 employees to handle increasing delivery demand during the COVID-19 crisis. Pizza Hut is hiring 30,000 positions including delivery drivers, cooks, shift leaders, restaurant managers, and virtual call center agents. Papa John's said it plans to hire 20,000 new workers and simplified the hiring process. And Domino's is planning to hire 10,000 new employees and using text messages to connect with candidates who apply.
On any given day, about 1 in 8 Americans are eating pizza, according to a report from the Department of Agriculture. And there's a reason for this love. Pizza is not only delicious, but it is also high-value in terms of the number of people it can feed for a low cost. It can be customized with different toppings and offers various delivery options such as online ordering, drive-thru, and take-out.
Pizza is a lifesaver. And it will keep feeding millions of people.
But, is your business ready for this competitive future?
How can you improve customer satisfaction while keeping up with the demand during a pandemic?
How to keep up with the demand: Stay strong with cloud-based Linga rOS®?
The pizza industry is moving fast. To stay competitive in these turbulent times, you have to meet your customers' growing demand for technology, speed, delivery, and loyalty. And the only solution is a full-service cloud-based pizza point of sale system.
Linga rOS® is built to offer pizzerias the tools and features they most need. With features such as slice-by-slice customization, delivery dispatch, online ordering, and loyalty programs, you can increase both sales and the average order value, and expand your delivery zone.
Linga rOS offers unique features:
Increase your profits with online ordering
Integrate Linga online ordering with your cloud-based Pizza POS Software.
Grow your customer base by giving them the ability to order online from any of your locations worldwide.
Maximize profits with a fast and reliable pizza online ordering process.
Optimize your menu
Customize toppings and combos down to the slice-level.
Add or remove toppings or create pre-built specialty pizzas.
Add mandatory and optional modifiers for total order control.
Deliver the experience
Easily accept and confirm pizza orders from online customers.
Let your loyal customers download your branded mobile app.
Manage and schedule the quickest pizza delivery routes.
Raise your pizza IQ
Manage, order, and set alerts for ingredients and supplies.
Track hours, attendance, and create schedules on the fly.
Compare costs and spending patterns with real-time reports.
Leverage loyal customers for more sales
Deliver pizza loyalty programs with Linga customer loyalty.
Let your customers rack up rewards for visiting.
Track your customer retention.
Your pizza business deserves an operating system that is only built for pizzerias and has every tool and features you need. And Linga rOS® offers it all.
To learn more, request a free demo, and prepare for the future of the pizza industry with Linga rOS®!
Relevant Blogs:
Top 5 Must-Have Features for Your Pizza POS Systems
How to Choose a Pizza POS System
Opening A Pizza Restaurant Cheat Sheet