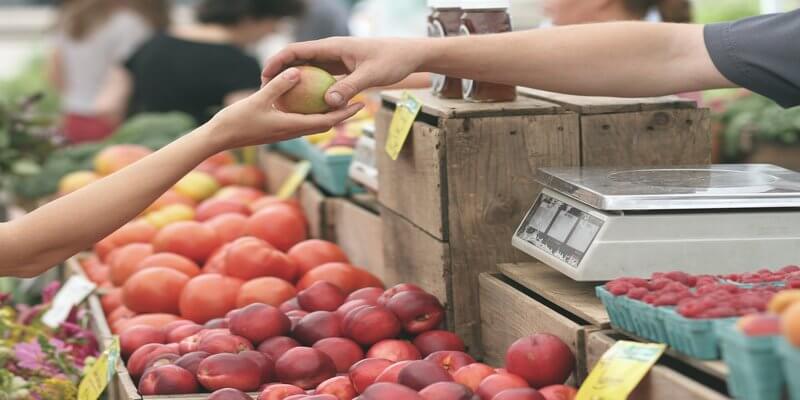 10 Tips to Help Your Restaurant Go Green
In the past few years, restaurant powerhouses have started adding more eco-friendly practices to their restaurants. McDonalds, KFC, Subway, and Starbucks have all enacted programs for waste management, energy consumption, and carbon emission. The millennial generation has brought upward trends in healthy eating and more sustainable living conditions.
Does your restaurant score a ten out of ten when it comes to restaurant sustainability? Having a sustainable restaurant is not only good for the environment but can also help save you money. Check out our ten tips on how to make your restaurant more eco-friendly.
1. Use Eco-Friendly cleaning products
One of the most important factors in a restaurant's sustainability is its cleanliness. Let's face it, there are more restaurant cleaning products that are toxic than not, and costs can run high on environmentally friendly cleaning products. However, if you look hard enough you can find affordable options to turn your restaurant more eco-friendly, you can even look for a company like the house cleaning Gold Coast which uses these products. When you are shopping around, look for the Green Seal label, Environmental Choice Program label, Greenguard label, or the Chlorine Free Products Association label.
2. Cook Menu Items By Season
It used to be chefs planned their menu on solely what they wanted to cook, and what they thought their guests would most enjoy. When creating a sustainable restaurant it's important to cook what's in season. Then you will want to customize different menus to match the different seasons. Customers will appreciate different options and the freshness behind your menu. Additionally, buying food on a seasonal basis can also help you cut food costs.
3. Buy Sustainable Equipment
Do you use energy-efficient equipment in your restaurant? It's very easy for a restaurant to rack up costs when it comes to electricity. Even though costs can start high, having energy-efficient equipment can pay off more in the long run. Look for things like low flush toilets, energy star appliances, and energy star refrigeration. Additionally, make sure all of your equipment like POS systems, lights, and ovens are turned off at your close of business every day.
4. Recycling and Compost Programs
Recycling and composting are great ways of reusing any acquired waste within your restaurant. Composting means taking any food waste and breaking it down in dirt or soil. Recycling is the process of rebuilding waste into new materials. Recycling allows you to decrease energy, increase efficiency, save money, and the opportunity to gain and retain new customers. Where composting allows you to reuse any food items that you would otherwise throw away. If you don't have room for composting, then just start a recycling system for your restaurant. A good recycling system usually involves setting up bins around your restaurant that are easily accessible to your customers and staff.
5. Use Little to No Paper
We are in a digital age now so reducing paper is easier than ever. Receipts can be a big problem with using too much paper. Did you know there are now POS systems that allow you to send digital receipts? Many people prefer having their receipts emailed to them instead of having a wallet stuffed full of paper. Additionally, try cutting your paper advertising and move your efforts online. There are more affordable options you can use like social media and The Daily Buzz™ – Co-op Media Tours.
6. Use Washable Serving Equipment & Consumer Materials
Ditch those Styrofoam and plastic containers! Anything that is washable is usually going to be a better option for restaurants when it comes to dishware. Glassware or other reusable dishware could seem expensive when you buy them initially, but they certainly pay off. Additionally, using reusable products is healthier than using disposable products. Look at your trash bin. Is your trash filled up with food containers? That means your guests are consuming food at your restaurant. If your concept is not like this, consider biodegradable equipment.
7. Go Local
Don't throw away money having food items transported from across the country. Invest your energy into locally sourced food items. Locally sourced food means that the food came from a 100 to 150 mile radius of where they were grown. Your customers will appreciate the freshness and creativity of your menu. Going local with your food can also get you more involved as a partner in the community.
8. Monitor All Perishables
Food waste can pile up quickly. It's important to keep track of all of your perishable items. Monitor expiration dates, food color, and smell and move up menu items to prevent as much food waste as possible. Look into point of sale systems that have an automated inventory management application. Even some, allow you to automate your inventory down to the ingredient level.
9. Don't Waste Water
Water costs can easily add up in a restaurant. Check all of the restaurant's pipes for leaks. A leaky faucet can lead up to thousands of gallons lost per year. Other ways to conserve water is to only serve water to guests who ask for it, only run the dish washer when it is full, and only thawing food in the refrigerator instead of under a faucet.
10. Promote Your Initiatives
People love hearing about good things. Don't forget to spread the word of your eco-friendly practices through social media and other marketing platforms. According to an Ohio State University study 8 to 10 consumers are willing to pay more for a "green" dining experience. Start spreading the word of your eco-friendly business.
Linga restaurant POS system have a variety of features designed to increase your business profitability.
Read about: How To Open a Restaurant: 10 Tips for Beginners