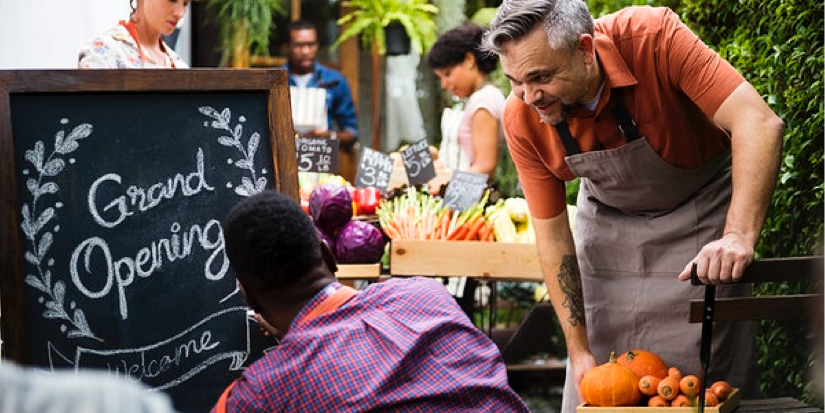 Are you planning on starting a new restaurant business?
(Good news!) There's still room for the market to grow:
"With 60% of U.S. consumers ordering delivery or takeout once a week, the restaurant industry continues to thrive in new directions post-pandemic. According to Statista, the revenue in the Online Food Delivery segment is projected to reach US$136,431m in 2020."
While opening a restaurant is exciting, it's also a challenging undertaking even during the best of times. There are many details to consider financially, for example, the kitchen equipment, menu, restaurant concept, providing the best food quality, staff selection, restaurant location, and marketing plans to name a few. For a successful restaurant business, investing time and money is essential. However, the most critical step is often overlooked… Planning! Research shows that all too often, writing a detailed business plan is overlooked by those hoping to open a restaurant.
If you are passionate about opening up your own restaurant and building success from scratch, it is essential that you have a solid business plan.
Here are ten important steps to navigate you through the process:
Write Your Business Plan
A well-constructed business plan guides you perfectly in the beginning stages. As a living document, it also helps you measure your progress and plan for growth. Your business plan should include:
Description of your company and concept
Information on your target audience
Competitor and market analysis
Operations plan (customer service procedures, staffing, point of sale, payroll)
Management strategy
Your budget and financial projection
Food safety plan
Marketing plan
Your menu and pricing
Create A Financial Plan
Before opening your restaurant, you should calculate your business startup costs, such as your restaurant's type and size, number of staff, and restaurant real estate, and make some budget assumptions. A Restaurant Financial Plan Template can help you make startup feasibility studies easily.
By using this Excel Financial Feasibility Template, you can start to input your projections and see possible results without needing to learn complex concepts.
And first of all, if you are looking to raise money for your business, here are some funding options for you to start your restaurant:
Find an investor, someone who is as passionate as you and can mentor you. An investor willing to lend their money to support your business can be a solid starting point.
Apply for a business loan. Small business loan programs or bank loan options can obtain the funding you need to cover your restaurant's future costs, such as purchasing new equipment, inventory, or hiring.
Use crowdfunding. Using crowdfunding sites like Kickstarter, FoodStart, Indigogo, and GoFundMe, you can create campaigns to raise the money you need faster.
Consider starting small. Before investing in a restaurant space, consider starting with a food truck, cloud kitchen, or catering business.
Research Permits & Licenses Needed For Your Business
Obtaining the required licenses and permits comes with paperwork and fees associated with it. Create a list of all the necessary licenses, permit applications, and all the supporting documents you will need for the submittal and approval.
Here are the licenses & permits you'll most likely need to run a restaurant:
Business license
Foodservice license
Certificate of occupancy
Liquor license
Sign permit
Food Handler's permit
Employee identification number
Music license
Choose The Right Location
Choosing the right restaurant location is crucial from the aspects of visibility, foot traffic, and revenue. Before deciding where to open a restaurant, do research on the market and the competition in your area.
Research should also include:
Sales volume
Accessibility to potential customers
Traffic density
Parking facilities
Previous tenants
Labor costs
The rent-paying capacity of your restaurant
Existing restaurant space options for sale
Define Your Concept
Your concept includes factors such as your restaurant's name, ambiance, customer experience, and the food you serve. An original, well-thought restaurant concept creates a memorable customer experience. And this leads to recurring customers and revenue. Start with the target market and competitor analysis and build a specific concept with a creative team.
Differentiate With Your Menu
Your menu is the mirror of your concept and should express your restaurant's identity. An appealing, easy to read, and brief menu can have a strong impact on your customers. One of the most essential internal advertising tools, and the first step of the guest experience is your menu. The menu helps ensure your customers keep coming back to your restaurant.
Start with asking questions. If you are a steakhouse, how can you make your food different from another local steakhouse concept?
Is your menu readable and appealing?
Make sure your menu design shows consistency with your concept.
Keep the kids in mind as you plan your menu selections.
Does your menu meet special dietary requirements? Mark the items low in fat, gluten-free, or sugar-free, and make sure to cover all the needs and expectations of your customers.
Always ask for feedback. Listen to your customers with Loyalty and Reward Programs and get clear & accurate customer insights.
Menu pricing plays a crucial role in making your restaurant a success. Build an effective pricing strategy to increase your restaurant's profitability. Calculate the food cost for a recipe, cost per meal, and your costs of goods sold. Study the market and create a menu that indicates your strengths. Don't forget to maintain a balance in price.
List Your Kitchen Equipment
List out all the equipment you need to start your business effectively. Restaurant equipment can be expensive, so check out leasing options with reasonable prices. Make decisions based on your budget and financial planning to ensure your restaurant's success from the beginning.
Prioritize your needs. Which equipment do you need most to start your business?
Find a reliable source of funding. Bank loans, government programs, or providers can help fund your kitchen equipment and restaurant technology. A provider like LINGA rOS® (a complete restaurant POS system that comes equipped with every point of sale feature and integration already included) can help maintain your business.
Hire The Best Team
When starting a restaurant business, it is crucial to hire the right employees. The right people help maintain your business efficiency, improve reputation, and increase customer satisfaction.
Make a list of the staff you need to run your front-of-house and back-of-house operations efficiently.
Post informative job ads to meet your needs.
Develop a set of interview questions that help you understand the best candidates.
Take notes and check references.
Host regular training sessions for your employees and improve your service.
* Use tools like LINGA Alerts to update your staff easily. Keep your entire team on the same page with quick SMS alerts and automated notifications that can be delivered to your employees' mobile device.
Use The Best Restaurant Technology
While we live in a fast-paced world, it's no surprise that we expect every part of our lives to be improved by technology. According to industry statistics in 2019, 73% of diners say that their experience is improved by restaurant technology. 95% of merchants also agree that restaurant technology improves their business efficiency.
Another benefit of investing in restaurant technology is more revenue. It's reported that diners who place their orders from tech-enabled tables spend 12% more than customers who order from normal tables.
Offer a complete cloud-based restaurant operating system. Including a set of integrations that offer seamless technology to its customers, LINGA rOS® is an innovative response to the demand for a one-stop solution for restaurant owners.
LINGA Online Ordering: The National Restaurant Association reports that 37% of restaurant operators think that ordering is the most important area for technological development over the next five years. Linga OLO improves customer service by providing a range of ordering options. Creates a safe social distance between customers and delivery drivers while allowing restaurants to keep their business flowing.
LINGA POS: Point of sale systems have changed, and restaurants are realizing they need more than just a POS terminal. LINGA POS offers the best enterprise features that restaurants need for online orders, 3rd party delivery integrations, automated inventory, and more.
As customers increasingly demand fast and easy-to-use services, more businesses are turning to Contactless Technology to meet their needs and expectations. Contactless payments are an easy and convenient way of paying for goods and services without the need to physically swipe a card in a machine or hand it to another person. According to Mastercard Global Transaction Data and Consumer Research, %79 of respondents worldwide say they are now using contactless payments.
LINGA VRT Kiosk and QR code technology provides solutions to meet the evolving needs of your guests, offer safety, convenience, and speed.
LINGA GO, a complete cloud-based "order & and pay-at-the-table" solution, is the safest and the most convenient way to increase table turns & tips, reduce wait times, and improve customer satisfaction.
LINGA Pay offers businesses fast, easy, and secure payment processing services with EMV and PCI compliant programs to keep up with the latest contactless technology.
Create A Marketing Plan
Marketing is the best way to increase customer engagement, grow audience, improve sales, and reputation. Digital marketing helps your customers understand why they should choose your restaurant over someone else's. A good strategy always attracts new customers.
Your restaurant marketing plan should include:
SWOT analysis on your competitors and the market
Social media posts, ads, and campaigns
Email marketing
Gift card & special day campaigns
Press releases
Blog posts and newsletters
Online events
Optimizing a website for Google
Video ads
Running a restaurant in these uncertain times isn't easy. But with LINGA rOS®, the world's first complete restaurant operating system based on cloud technology, you can save both money and time and help your newly opened business thrive.