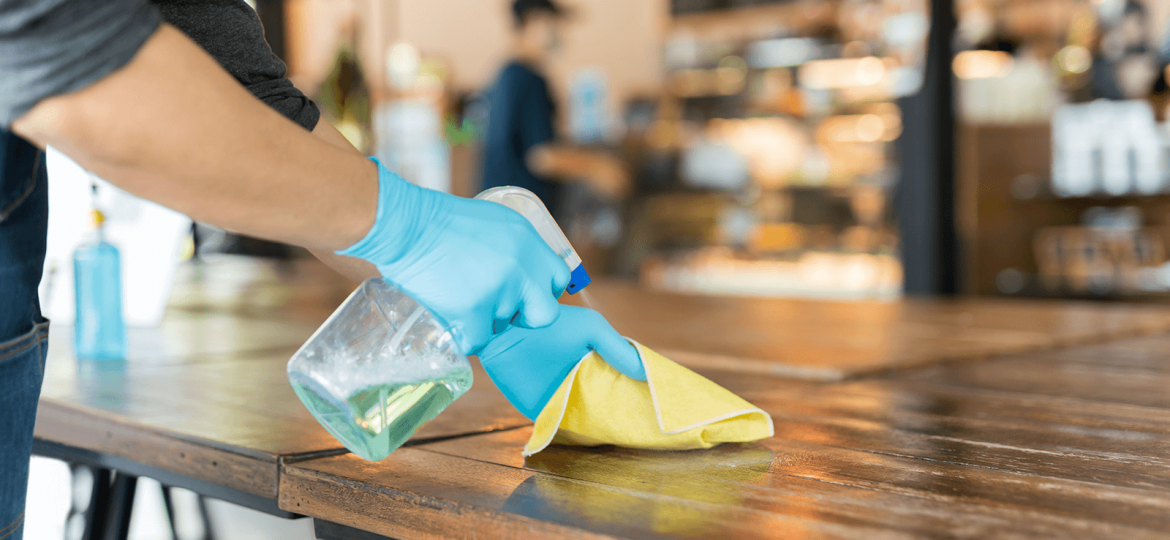 Is Your Business Ready to Re-open?
While the restaurant industry is undergoing a radical transformation post-pandemic, customer behavior is rapidly changing as well. Now after 7 months, customer expectations like food safety, speed, hygiene, and cleanliness are higher than ever.
It's nothing new for a restaurant to maintain the utmost cleanliness and safety for food preparation. But now we need to take a closer look at the procedures that are currently in place, along with the risk factors that we are facing, and how a better system can meet those challenges.
You may find that your current cleaning procedures aren't enough to cover new liabilities, here are some tips to consider when you reopen your restaurant:
Safety tips for your employees: It all begins with them
Covering the mouth and nose with a face covering
Washing hands frequently with soap and clean water for at least 20-30 seconds
Avoiding touching the eyes, nose, and mouth
Staying at least 6 feet from other employees and customers
Wearing disposable gloves, eye protection, and a uniform during cleaning and disinfecting
Staying home if sick
Top Cleaning Tips For Your Restaurant
Daily cleaning routine: A daily routine includes all the areas regularly touched by employees and guests (front-of-house, back-of-house, and restrooms). It has a crucial role in preventing further spread of the virus and maintaining the safety of your community.

Vacuum all areas accessible to your employees and guests clean the restroom, refill hand soap/sanitizer dispensers and add toilet paper wipe down tables, bar, seats, floors, menus, and counters with alcohol-based cleaner (80% alcohol).
Disinfecting frequently touched surfaces: In restaurants, certain areas may require more frequent cleaning and disinfection based on the level of use. By keeping these areas clean, you can protect your staff and your customers from infections, bacterias, and viruses.

Completely disinfect all "high-touch" areas like door handles, light & air-control switches, counters, railings, toilet flush levers, menus, point-of-sale terminals, touch screens, and pagers.
Weekly and monthly deep cleaning routines: Deep cleaning requires the use of products that provide long-lasting protection from surface contamination. This detailed cleaning routine helps you clean dirty surfaces, remove germs, kill pathogens, and lowers the risk of spreading viruses and infection.

Clean the walls, ceilings, ovens, doors, racks, mats, floor drains, hoods and hood filters, light fixtures, windows, chair legs, and baseboards. Deep clean the freezer and the refrigerator. Clean faucets and sinks. Disinfect the pots, pans, and utensils. Sanitize the coffee machines.
Deep restroom cleaning: A survey conducted by Harris Poll and Yelp found that 85 percent of U.S. adults would not return to a business if they experienced a dirty restroom. Using a public restroom can be scary for your customers during the pandemic. But a deep cleaning routine with effective cleaning products helps prevent the spread of viruses and helps your customers feel safe and comfortable.

Restroom deep clean list: Light fixtures, switches, and vents floors trash can mirrors doors and handles counters faucets and sinks toilet bowl walls and ceiling flush handles and dispensers.
BONUS
Stay organized and connected: While cleaning is vital to maintaining your business during the pandemic, so is staying connected with your employees. Responding to employee needs quickly and training them on the new procedures is vital to adapt to the ever-changing restaurant industry. To enhance the skills, capabilities, and knowledge of your staff, don't forget to keep them up to date.

Make sure your employees have the latest information. Train your staff on the new hygiene procedures and encourage them to practice these rules regularly. Communicate frequently on staffing needs. Provide safe channels for them to give feedback.
Show your efforts: A survey by Technomic found that 56% of consumers want to see staff "visibly cleaning" high-touch areas. Show your customers that you keep your restaurant safe and clean with announcements and campaigns.

Keep them up to date with emails and SMS messages on the progress. Inform them regularly using social media announcements. Share your daily/monthly cleaning routine checklist. Share high-quality photos of your disinfected kitchen, dine-in space, and restrooms.