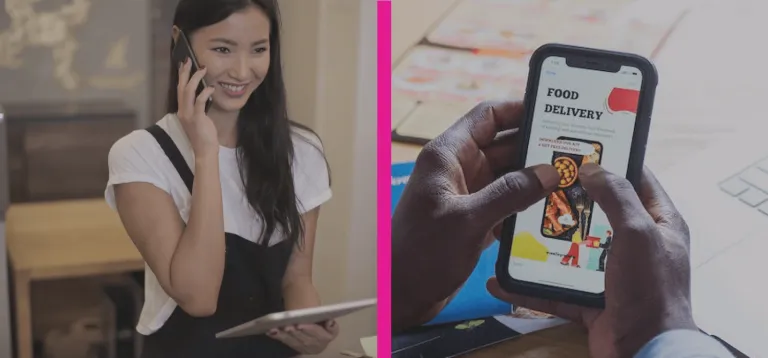 When it comes to restaurant ordering methods, online and call-in orders have continued to gain popularity amongst diners. Whether it is out of convenience or order accuracy, there are many benefits to both solutions. In this blog, we will discuss the pros and cons of both online ordering and call-in options to help you determine what is best to implement at your restaurant.
Benefits of Online Ordering
According to Zippia, online ordering accounts for almost 50% of all restaurant sales. Adding an online ordering option opens your business up to more potential and returning diners who prefer this method. In addition to consumer demand, online ordering helps to avoid input errors from your staff. Since the customer is entering in their information, they can add special instructions, input dietary restrictions, and any additional instructions to improve overall order accuracy. If you have a loyalty rewards program, you can enable customers to earn and redeem their points online, elevating the customer experience. With research suggesting that a 5% increase in customer retention can lead to a 25% to 95% increase in profit, having an online ordering solution is imperative to keep customers coming back.
Cons to Online Ordering
Although order accuracy and brand visibility are significantly improved through online ordering, there are a few downsides to this method as well. One issue, in particular, is order timing. When a restaurant is experiencing a rush, they may not have time to update the order status, making guests believe their food will be ready sooner than it actually is. In this case, you will need a system that automatically updates your order throttles so you can run a tight ship, even during a rush.
Benefits of Call-in & Call Center Ordering
Call centers are becoming the norm in the restaurant industry. They provide the perfect solution for businesses that are short-staffed, have rush hours, or don't want to hire someone full-time. With a live operator on the other line, you won't miss a single customer call, even during peak periods, saving your bottom line. This provides your floor staff more time to focus on dine-in customers and their needs.
With LINGA's Call Center module, your call agents can input customer orders straight from their laptops to your point of sale system and kitchen display. This way, if a customer calls back with an edit to their order, the agent can apply the changes, which will then be implemented, notifying your kitchen staff of the new status. With the right call center, your restaurant can improve overall kitchen efficiency, leading to higher customer satisfaction. Another advantage call-in orders have is the live customer service diners receive versus simply ordering online. When a customer picks up the line to order, it is another opportunity to build a relationship with them.
Cons to Call Center Ordering
Although call centers can improve workflow, if it does not have a secure connection between your point of sale system and the call agent, it can be more trouble than it is worth. Without a two-way connection to your POS, if a customer calls in with an order change, an in-house employee will have to manually edit the ticket or notify the kitchen, taking precious time away from dine-in guests. When in a dinner rush, this is the last thing you want to occur.
When it comes to call-in versus online ordering, we believe that both options working in tandem are the best solution for a bustling restaurant, especially if you are a pizzeria. With online ordering, you can gain more loyal customers and increase your brand's visibility, and with call-in orders, you can increase kitchen productivity and keep up with peak rush hours.
Relevant Blogs:-
Online Ordering, What Happens if I Don't Offer It?
Online Ordering – Why Restaurants Should Start Now