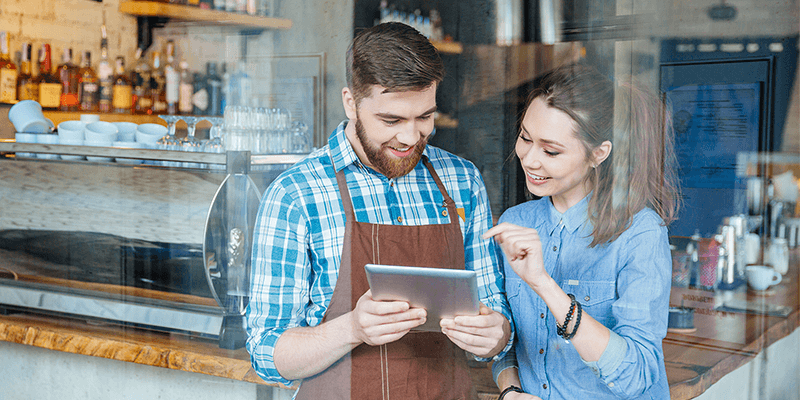 Why do restaurants need to start using a full-service rOS® instead of a legacy POS system, after COVID-19?
In these surreal times, while closing down comes with a whole set of problems for restaurants, remaining open presents another. With calls for social distancing, restaurants that depend on customer-provider interactions happened to be the first businesses that got deeply affected by Coronavirus. While the revenues across the world have been decreasing significantly, the restaurant owners and employees are at high risk of losing their jobs.
Nearly one-in-four U.S. workers – 38.1 million out of 157.5 million – are employed in the industries most likely to feel an immediate impact from the COVID-19 outbreak, according to a Pew Research Center analysis of government data. Among the most vulnerable are workers in retail trade (10% of all workers) and food services and drinking places (6%). In total, these two industries employ nearly 26 million Americans.
How COVID-19 has changed the restaurant landscape:
According to the National Restaurant Association survey, New York state restaurants had to lay off more than 250,000 people and lost nearly $2 billion in revenue in the first 22 days of March.
According to the latest edition of PYMNTS' COVID-19 Brief series, the share of consumers dining at sit-down restaurants had declined 85.2 percent since the pandemic began, dropping 52.3 percent in 11 days.
According to statista.com, the year-over-year decline of seated diners in restaurants in the U.S. was a staggering 100 percent on March 25, 2020.
Restaurant analysts have been quoting an estimate that 75 percent of the independent restaurants that have been closed to protect Americans from the virus won't make it.
The National Restaurant Association estimated that the entire industry would lose $225 billion in the coming three months and shed five to seven million employees.
COVID-19 facts: But really, what happened to restaurants?
In the chaotic atmosphere of COVID-19, restaurants that have long resisted offering takeout or delivery, have become completely out of use.
Restaurant owners had to lay off their employees and had difficulties paying fixed overheads and other expenses.
Having no information about customer eating habits and behaviors, they failed at taking quick and severe precautions.
Because of having no marketing tools and efforts, they failed at reaching their audience.
Restaurants without data collection skills were unable to send update messages or emails to their customers.
They couldn't keep up with the latest technology, and they've failed at building customer loyalty. And finally, they've shut their doors, or still struggling to an uncertain future.
What should change after COVID-19?
Will COVID-19 be over in two months?
Will there be waves of this for the next year?
Will workers be back to work soon?
Will restaurateurs be extremely conservative about opening their restaurants?
Will consumers rush back to restaurant dining rooms after Coronavirus?
These are the questions everyone in the restaurant business is asking right now, and unfortunately, there is no way to know the answers. But what we are sure about is that the restaurant industry as we have known, will probably never return to the previous "normal old days." Delivery, which was not that profitable once, now became a permanent part of the landscape. On the other hand, data collection is a must. By collecting data, restaurant operators manage their inventory better, avoid food waste, and decide which menu items to promote in times of crisis. While loyalty programs help to gain customer trust and create brand value, creative digital marketing is the key to draw customers in and keep them coming back during hard times.
What lessons can restaurateurs learn from COVID-19?
Start delivery services: According to the National Restaurant Association's 2020 consumer trends,52% of consumers say purchasing takeout or delivery food is essential to the way they live. Now, food delivery is more crucial than ever. Online ordering systems create a safe social distance between customers and delivery drivers while allowing restaurants to keep their business flowing. To be able to remain open during this time, you need to create versions of your food for your customers to enjoy at home. Canlis, a Seattle fine dining restaurant – which typically serves four-course meals from a James Beard award-winning chef for $135 per person – closed its luxe dining room and started selling burgers through a makeshift drive-thru and delivery in its parking lot. "Fine dining is not what Seattle needs right now," the restaurant's owners wrote on its website announcing the changes. "Instead, this is one idea for safely creating jobs for our employees while serving as much of our city as we can."
Collect data: In this highly competitive industry, collecting and tracking data to figure out what exactly the customers want is all that matters. Knowing your customers' names, birthdays, phone numbers, email addresses, and professional interests, makes you come up with a good plan to serve them the best way possible and boost your sales, in times of crisis.
Get a loyalty program: So, how do restaurants collect data from diners? There are various ways of gathering data from the customers, including getting them to sign up for emails or surveys. But the best way is to offer a rewards program that gives restaurants the chance to collect and track customer purchasing data while building loyalty. In this way, customers voluntarily share their information because they're getting various discounts or free food. Don't forget that this situation may be a chance for you to deepen relationships with your loyal customers as well.
Get a marketing integration: Engaging your customers is going to be critical during the Coronavirus. With the best marketing efforts possible, you can engage your customers with personal letters, emails, calls, and texts and let them know your situation. With creative notifications and online campaigns, you can stay afloat and connected.
Try cloud kitchen: As the number of delivery orders increases, restaurants are now moving towards cloud kitchen operations. Cloud kitchens, also known as ghost kitchens or virtual kitchens, are commercial facilities built to produce food for delivery. These centralized food production centers where restaurants rent space and prepare delivery-optimized menu items could help you to lower your franchise's overheads and be able to stay afloat in a crowded digital marketplace.
Build a call center: Do you know that restaurant call centers are helping restaurants save 30-50% on costs compared to hiring internally? While preparing for the chaos of corona, you can increase productivity and improve customer service with a call center integration. Don't forget that call centers are the best way to manage peak times and improve speed & accuracy.
The new standard in the restaurant industry: All you need is a cloud-based restaurant operating system (rOS®)
In today's atmosphere of uncertainty and anxiety, it seems likely only the restaurants with cloud-based full-service operating systems will be able to overcome these sudden life-changing problems.
To be able to manage a restaurant business more effectively, purchasing a cloud-based restaurant operating system is the best investment that you could do. While a traditional POS runs on a closed network and stores data on local servers, cloud-based POS stores data on remote servers. And any data becomes accessible because the cloud is everywhere. By switching from a legacy POS to a new cloud-based rOS®, you can access real-time data anytime and anywhere, and easily manage your business during difficult times.
A complete cloud-based restaurant operating system offers every application you need to run your business online or offline. Including a set of integrations such as point of sale, online ordering, self-service kiosk, loyalty program, inventory management, KDS, customer display, waitlist, central kitchen, caller ID, simple scheduling, call center, and text alerts, it can easily adapt to businesses of all sizes and kinds, such as franchises, quick services, full services, and pizzerias.
A cloud-based rOS®:
helps you to make better business decisions
cut costs by providing every essential business tool in a single package
increases profits
provides the best customer experience
automates time-consuming tasks
improve employer experience
Coronavirus has hit the large chains badly. And the situation is even worse for the small and medium restaurants that make up about two-thirds of the American dining landscape and do not have the resources to see the pandemic through.
More and more restaurants are realizing that they need more than just a POS terminal. And what they need is a necessary change, a whole new system to keep their business afloat during turbulent times.
These are hard times for every one of us. But we evolve by facing challenges. So let's do change, get a complete rOS®, and move forward…
If you want to learn more: click Linga rOS®