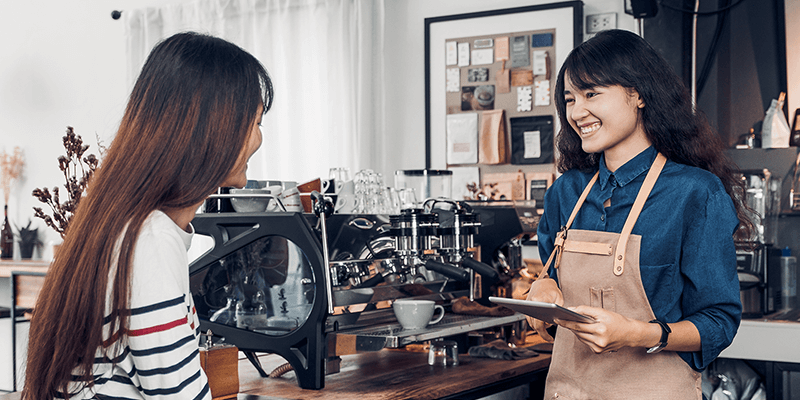 If you are a bank selling merchant services and facing the harsh truth of losing your customers, you need to rethink the whole process…
As research shows, banks appear to be losing more customers to financial technology companies such as full-service POS providers. One of the main reasons for this is that traditional banks are lacking in improving consumers' digital experience. But luckily, cloud-based restaurant operating systems such as Linga rOS® help banks move their classic payments proposition to their merchants into a new digital world of apps and services.
Let's see some numbers:
According to the Accenture report, global investment in financial technology ventures tripled to $12.21 billion in 2014, clearly signifying that the digital revolution has arrived in the financial services sector.


The global point of sale (POS) terminal market size is expected to grow from $62 billion in 2018 to $108 billion by 2025, according to a recent report by Grand View Research.


According to an Accenture study that surveyed more than 131,000 consumers in 22 countries, found that digital channels are the preferred means of purchasing banking products, with the share of purchases via such channels rising by 2% to 16% points from 2017.


According to Bain's 2019 global customer loyalty in retail banking report, 75% of consumers between 18 and 24 said they would use a banking product offered by an 'established' tech company.


In a late 2018 study, Citizens Financial Group found that 76% of consumers surveyed said that they are more likely to make a retail purchase if a payment plan backed by a "simple and seamless point-of-sale experience" is available.
Growth of POS financing is an opportunity
Merchants, especially small and medium-sized businesses, are looking for business solutions rather than merchant accounts. Considering the shift from traditional payment services provided by banks to digital services, banks can benefit from the growing demand for smart POS systems.
How Linga rOS® can help your bank to keep your customers long term while increasing the loyalty to your bank
Linga rOS®, the world's first complete restaurant operating system based on cloud technology, offers a true one-stop solution for merchants with a catalog of products designed to run a successful restaurant franchise.
Merchants are looking for a partner that can help them overcome business challenges. Providing a full spectrum solution with integrations such as point of sale, easy online ordering, self-service kiosk, loyalty&reward program, inventory management, KDS, customer display, waitlist, central kitchen & warehouse, caller ID, simple scheduling, call center, and text alerts, Linga rOS® is an innovative response to the demand for a one-stop solution for restaurant owners.


Each merchant type has different priorities. Linga rOS® can adapt to businesses of all sizes and kinds (Franchises, quick services, full services, and pizzerias).


Merchants can increase customer engagement by tracking customer data and loyalty programs. Linga Loyalty allows merchants to recognize customer loyalty automatically and helps them build a stronger bond with their customers.


Merchants can improve the productivity of their business with a fast and reliable restaurant operating system. Features such as easy stocking, fast ordering, effective employee scheduling, analytics & reporting, and 24/7 support help merchants run a successful franchise without getting overwhelmed.


Merchants prefer simple and secure payment processing. Linga Pay offers businesses fast, easy, and secure payment processing services with EMV and PCI compliant programs and hardware.


Merchants want their customers to keep coming back to their stores. For better customer experience, Linga rOS® offers an enjoyable and secure customer display.


The cloud-based system that is updated monthly and accessible anywhere at any time, helps merchants manage and grow their business easily.


Merchants are demanding more from their banking services. And they dream of a centralized system in which includes multiple platforms only designed for their business type. Linga's complete rOS® ecosystem and white label partnership program could be the best opportunity for your bank to shift to the digital world and keep your customers long term.
Benefits to White Labeling with Linga
Whether you are an advisor looking for a trustworthy partner to refer your clients to a sales organization or have an aspiration to build your brand, you can be a part of our white label program to improve your business and strengthen your network.
You can develop and maintain your internal and external brand identity.

You can manage your own merchant accounts and control your profits.

You can focus your resources on building your brand and client base.

You can empower your network with the latest and most sophisticated restaurant and retail operating systems available.

You can easily access support and sales resources, training materials, videos, webinars, and more.
If you work with small or medium-sized businesses and want to help improve the in-store experience for digital-savvy consumers, Linga ROS provides all the right solutions to your needs.
Why Not Try Now?
Start Your Free Trial Here!