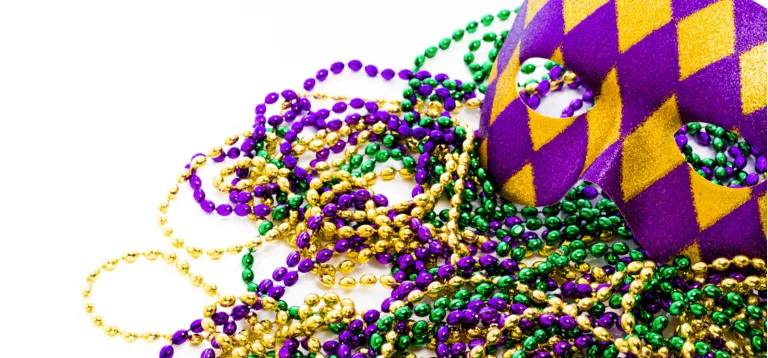 "Without a doubt, we will have Mardi Gras 2022," A joyful Mayor LaToya Cantrell stated in a prelude to the Carnival celebration this January 6th. After the cancelation of Mardi Gras 2021, many New Orleanians are excited to kick this year's celebrations off with a bang. With an average of 1.4 million people celebrating this holiday in Louisiana alone, here are some ways your restaurant can get into the Mardi Gras spirit!
King Cake Coupon – King Cakes are a delicious staple of Mardi Gras that gets everyone involved in the fun. For those who are not aware, the King Cake pays homage to the three Wisemen who brought gifts in honor of the birth of their savior, Jesus Christ.  So, each King's Cake has a small plastic baby inside of it, whoever receives the cake slice with the baby is then named the king or queen of the evening and is blessed with luck and prosperity for the following year.
This tradition is an excellent opportunity to run a King's Cake promotion for your restaurant. Whoever ends up finding the baby in each cake can be rewarded with a free appetizer for their next visit, a free cocktail, or whatever you deem appropriate. Try to provide a reward that provides incentive to return on another occasion. If you want to get really creative, have mini crowns to give out to the winners throughout the day. Make your customers feel like royalty, and they will reward you with loyalty.
Fat Tuesday Promotions – In the weeks leading up to Mardi Gras, you can have "Fat" promotions in honor of Fat Tuesday. Offer a King Cake coupon, Bogo beignets, or have a happy hour special, whatever you think will get guests into the festive spirit.
In addition to a Fat Tuesday promotion, your restaurant can also run a "Skinny Tuesday" deal for guests who want to celebrate Mardi Gras but are watching their calorie intake. Make everyone feel included with this added menu feature.
Costume Contest – Get into the Mardi Gras spirit with your customers by throwing a costume contest promotion. Whoever is the best dressed throughout the day can receive a special discount or promotion. You can give this prize out every hour as new customers rotate in, or at the end of the day. For example, if you are running the costume contest every hour, give the winner a "Best Dressed Beignet."   
Beads Beads Beads – Have beads on standby to give out to your guests. This helps to keep your customers in a Mardi Gras mood without breaking the bank. Aim for gold, green, and purple colors to stick with the overall theme.
Mardi Gras Takeout Meal Kit – Make sure everyone gets to celebrate Mardi Gras this year with takeout options for your guests. Have your signature dishes like a mini King Cake, jambalaya, seafood gumbo, rice with beans, and make a full course meal in essence. Complete the takeout package with some beads and a Mardi Gras mask to top it off. This will raise your overall revenue for the day since you are catering to in-person guests as well as off-campus demand. In addition to a Mardi Gras food kit for takeout, we suggest a special drink kit for establishments with a bar top. Make a list of New Orleans classic cocktails for guests to sip on, in your restaurant, or from the comfort of their own home. Drinks such as the Bourbon Hot Toddy, Pimm's Cup, Drunk Grasshopper, Ramos Gin Fizz, Sazerac, and the ever-so-popular Hurricane are great options that highlight New Orleans cocktail history. With the new regulations set in place, this is another great way for you to receive patronage from customers that can't celebrate in person.
Read about: How to Prepare Your Bar/Brewery for Large Events – Mardi Gras Style