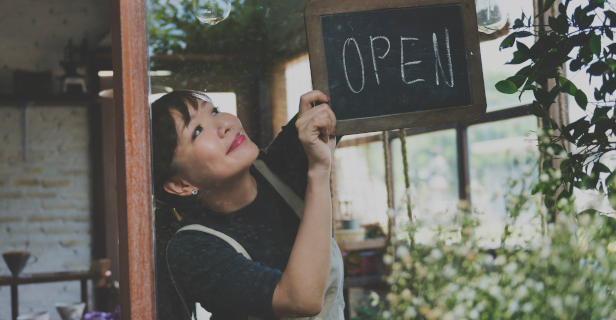 Run Your Entire Business With a Multi-Store Restaurant Operating System, LINGA rOS®
Does your business have more than one location? You want your business to grow more, but you feel you have limited resources? Restaurants can thrive even during the most unpredictable times and assist their customers better. With a complete restaurant operating system built to improve efficiency and cut costs, your business can quickly expand into a multi-unit concept.
So, how can you choose the efficient restaurant operating system that is right for you? What is it exactly that you can do to grow your restaurant business and go from one store to hundreds of stores?
Here are eight emerging technologies that LINGA restaurant operating system offers to help you achieve that goal.
LEGACY RESTAURANT POS SYSTEMS HAVE BECOME OBSOLETE: WHY YOU SHOULD SWITCH TO A CLOUD-BASED POS.
Cloud POS systems may already sound familiar to many restaurateurs out there. However, the traditional POS systems are still rarely used by new restaurant owners. There are several reasons why they hesitate to use them, but one of the main reasons is that they have little information on cloud-based POS systems' benefits and think they are too complicated to use.
On the contrary, cloud-based POS systems are easier to use than traditional ones and provide a lot of flexibility for restaurateurs, especially those with multiple stores and warehouses. The system helps you launch new franchised locations faster and provides a collection of critical reports and customer analytics.
LINGA Franchise POS System features:
Our innovative franchise POS system offers all the features and tools a restaurant operator would want in a POS to run a successful enterprise.
–

LINGA Franchise POS system helps you manage multiple branches and warehouses from one central location globally. With a multi-store pos, you can manage regional chains, scale your business, and streamline business operations.

–

With LINGA POS, you can manage your multiple stores anywhere as long as there is an internet connection. You can access the system on any device, anytime, in any language and currency.

–

LINGA Franchise POS system includes all the essential features like payment security, consolidated reporting, centralized management, and global support for your multi-store business to thrive.

–

You can group different stores or events and create custom reports that help you understand your sales and data.

–

Linga Franchise POS System offers a user-friendly customer interface that is easy to use and train your staff.

–

You can receive instant access to numerous integrated solutions such as customer loyalty programs, online ordering, inventory management, CRM, and in-depth reporting and analytics when you choose Linga. LINGA POS is updated monthly with powerful new tools and integrations.

–

The key to running a successful franchise is about having the best inventory management. With the LINGA Franchise POS system, you can track and manage your inventory levels more efficiently and analyze your best-selling menu items to improve sales.

–

Cloud POS systems are way cheaper compared to the price of the traditional ones, and luckily, LINGA has a pricing plan to fit everyone's needs and budget. You can compare the plans and select the ideal option for your business from here.

–

Linga is the first restaurant POS system certified with PayPal. Customers can make their payment at the checkout using their PayPal or Venmo apps, which speeds up the transaction time and enables restaurant owners to get their money faster in their banks, and reduce the cost of accepting payments at the POS.
If you still have questions, you can watch our short video to learn more.
AN ABILITY TO ADAPT TO NEW TECHNOLOGIES IS CRUCIAL FOR GROWTH: ARE YOU READY FOR THE CONTACTLESS ERA?
Over the past couple of years, contactless technology has made significant progress in the restaurant industry. As customers increasingly demand fast, safe and easy-to-use services, more businesses turn to contactless technology to meet their needs and expectations.
Investing in contactless technology is crucial to provide guests with a better, safer experience when ordering, paying, and receiving their food. And it is also one of the best ways to stay connected with them through tough times such as a pandemic.
LINGA's Contactless Solutions
Linga's contactless suite of products is breaking an old habit. While keeping your employees and customers safe by enabling touchless technologies also maintains a more secure, fast, and easy process than other payment methods such as cash, checks, swipe-cards, and inserted cards.
Touch-Free Payment Options
One of the key technologies that will define the post-pandemic world is contactless payments. Linga's contactless payment ecosystem offers a more convenient and secure checkout process. And it is also positive from the social distancing and hygiene aspect, as it reduces the number of contacts between people, and therefore the transmission.
–

Contactless payments are a secure, hygienic, and convenient way of paying for goods and services without the need to physically swipe a card in a machine or hand it to another person.

–

To be able to make a contactless payment, a customer taps or waves their chip cards, fob, or mobile wallet (Apple Pay, Samsung Pay, Google Pay) over the point of sale terminal.

–

Used by services like Apple Pay and Google Pay, NFC compliant systems enable customers to use these services to pay even with their smartphones, watches, or other devices.
QR PAY: Accept Orders and Payments Through LINGA's Powerful QR Code Technology
QR Pay & QR code-based menu is another technology developed by Linga for restaurants to respond quickly to customers' needs for safety, speed, and convenience. With QR Pay, guests can scan the QR code from any camera and mobile-enabled device to view the menu, order, and pay just in seconds. Linga's virtual ordering model allows businesses to support the safety of their community while providing more and better options for their customers to re-engage. While making it easier to offer safe and quick food service for diners, it also reduces the number of people in the restaurant, making social distancing easier to achieve.
Online Ordering: No longer a "Nice to Have," but a "Need to Have."
Now, food delivery is more crucial than ever. According to the National Restaurant Association's 2020 consumer trends, 52% of consumers say purchasing takeout or delivery food is essential to the way they live post-pandemic.
Starting delivery services with LINGA OLO is the best investment you can make to grow your business. Your customers can place their orders easily with a fast and easy option. Online orders flow directly to the kitchen and can be throttled to eliminate kitchen overload during peak periods. LINGA OLO also creates a safe social distance between customers and delivery drivers while allowing restaurants to keep their business flowing.
With seamless features (branded mobile app, website ordering, auto menu sync, marketing assistance, data analytics, and customer loyalty programs) only designed for restaurants in mind, Linga online ordering is a perfect choice for restaurants to achieve a higher level of customer satisfaction.
Faster and safer delivery is more important than ever: Utilize our LINGA Driver app for in-house deliveries.
LINGA Driver app, a crucial part of LINGA's online ordering ecosystem, offers faster delivery and better customer service. With a delivery driver app designed for franchises and big chains for a seamless delivery process, you can quickly assign your drivers to deliveries, speed up the process & manage your restaurant more effectively.
–

LINGA Driver App technology directs the drivers on the fastest route, decreases wait times, and improves customer experience. Simplifies the delivery process and increases your drivers' productivity.

–

With LINGA Driver App, customers are informed of the ordering process with real-time notifications. You can send SMS text messages to your customers for order departure, arrival, delay, cancellation, or completion. You can also send order and delivery updates or any other status changes to your drivers with real-time SMS messages.

–

You can track and assign multiple orders to your drivers, track your drivers, and let your customers track the process as well. It's all easy and fast with a user-friendly display.
LINGA GO: Accept Orders & Payments At The Table
LINGA's recently announced new product LINGA GO is a smart device designed to be used by restaurant staff to take orders at the table, accept tableside payments, or for line-busting. LINGA GO allows restaurant staff to work more efficiently, focus on customer engagement, and turn tables faster. This not only improves the guest experience but can help restaurant operators reduce costs and boost revenue.
–

Linga GO decreases the order entry times and improves customer satisfaction with no additional labor.

–

Allows customers to order & pay safely with ease. Offers all emerging payment types, including EMV, swipe, contactless NFC (Apple Pay, Google Pay, more), and mobile wallets.

–

With LINGA GO, your restaurant staff quickly takes orders & accepts contactless payments at the table, so the customers don't need to physically swipe a card in a machine or hand it to another person, or touch a menu or a receipt.

–

LINGA's pay-at-the-table technology enables guests to add tips from their tables easily.

–

LINGA GO enhances customer satisfaction by tracking and collecting valuable customer information. Helps to build a customer database, develop customer profiles, and understand menu preferences.
Here is everything about LINGA GO in 35 seconds.
WANT TO SAVE MONEY, ENERGY, AND TIME WHEN STARTING YOUR EMPIRE? START A CLOUD KITCHEN
Growing your business requires automation. Cloud kitchens, also known as virtual, ghost, dark, and commissary kitchens, are leased spaces used to produce food, specifically for online ordering and delivery. Especially for fine dining restaurants and franchises, the cloud kitchen concept enables restaurant operators to grow their businesses with online ordering solutions and cost-saving options.
LINGA Cloud Kitchen: Streamline your operations with a centralized system
–

A cloud kitchen is much more cost-efficient than a dine-in restaurant in so many ways. There's no need to invest in real estate or pay high rents or overspend on interior design, furniture, or equipment. Shared facilities allow restaurateurs to produce and deliver food in a much more affordable way.

–

A cloud kitchen's labor force consists of chefs, dishwashers, and delivery drivers. In this concept, the front of house staff is no longer necessary. So, in this way, cloud kitchens reduce operational and labor costs.

–

It is also possible to save on inventory with cloud kitchens. By tracking data and removing ingredients that are not as popular, it becomes easier to save on overhead expenses.

–

A cloud kitchen concept can be expanded easily geographically without investing in expensive real estate. Cloud kitchens opened with low investment amounts can help franchise companies grow their business.

–

Cloud kitchens give flexibility to restaurants. Different delivery restaurants can operate from the same kitchen, or the same restaurant can build many brands under one roof.

–

By observing real-time customer data, restaurant operators can update their menu ingredients, set competitive prices, and run their business effectively.
CUSTOMER EXPERIENCE IS KEY TO EXCEEDING YOUR CUSTOMERS' EXPECTATIONS: START IMPROVING YOUR SERVICE WITH FEEDBACK AND LOYALTY PROGRAMS.
Building customer loyalty is another essential process for any franchise business. Loyalty & reward programs and regular feedback systems help deepen relationships with customers and encourage them to stay. Offering a rewards program also gives restaurants the chance to collect and track customer purchasing data while building loyalty.
Linga Loyalty is a trackable rewards program that allows you to recognize customer loyalty automatically, gather insights & analyze customer habits.
–

On-Screen Registration: It requires no papers to fill; customers sign up with a click of a button.

–

Fast and Easy to Join: Rewards and customer alerts are issued automatically.

–

Real-time Analytics On-Demand: Gives real-time updates on loyalty and reward activity.
Relying on the same business model for too long, the main goal for restaurants was to get customers and serve them good food. But now, much more is needed in a highly competitive field that is constantly evolving. To make the best business decisions, improve the guest experience, and ensure the success of a multi-store business, restaurants need to adopt new technologies, which should include front and back-end solutions.
Linga rOS® is the first all-in-one cloud-based restaurant operating system with every feature needed to efficiently run a successful restaurant chain. Including a set of technologies built to help businesses thrive, Linga rOS® offers all the business tools that restaurant operators need the most to accomplish their future dreams.