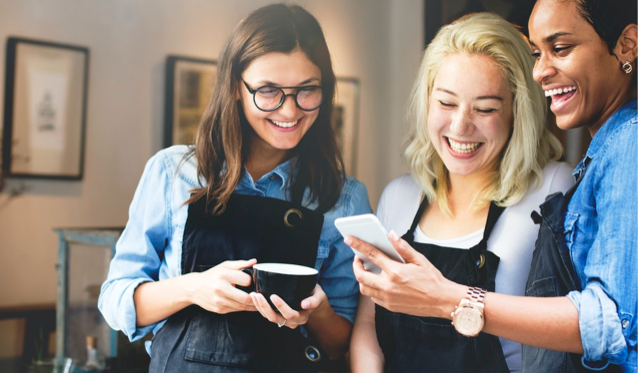 After long resisting the trend of online ordering, even the local businesses are preparing themselves for a post-COVID world to stay afloat post-pandemic. Restaurants who shifted their entire business model overnight to delivery/take out, or restaurateurs who are looking for innovative ways to transform their businesses, now need a complete digital restaurant operating system, and that is LINGA.
The restaurant industry is one of the worst hit by the COVID-19 pandemic. Restaurants worldwide are struggling to stay in business and try to find new ways to transform their restaurants for good. Now it may be hard to predict exactly what the industry will look like after the pandemic, but one thing is clear: This worldwide crisis has a lasting impact on our lives and has forever transformed how we eat.
But on the other hand, this causes another opportunity for the industry:
A full-service delivery/takeout restaurant operating system can change the course of the economic impacts of the pandemic.
Let's first start by understanding the impact of the industry on the global economy:
Why are restaurants so important?
As America expanded throughout the 19th century, the urban restaurant concept began to grow in numbers after 1850. According to Pillsbury, the increasing number of restaurants came about as a result of the suburbanization of urban areas and a newly affluent middle class. Today, restaurants lie at the heart of 21st-century American life both socially and economically.
According to the "National Restaurant Association:
Restaurants are the top employers of teenagers in the 21st-century economy: 1 in 3 employed teens work in the restaurant industry.
The food and beverage industry employs 15.6 million people, and more than 70% of these restaurants are small businesses that support their local communities.
The total economic impact of the restaurant industry is more than $2.5 trillion.
63% of consumers say they would rather spend money on an experience such as a restaurant or other activity, compared to purchasing an item from a store.
The number of restaurant jobs created by 2030 is 1.6 million.
There are 1 million+ restaurant locations in the United States.
Industry's projected sales in 2020 before the pandemic were $899 billion.
The number of middle-class jobs ($45K-$75K) in the restaurant industry grew 84% between 2010 and 2018, more than 3 times faster than in the overall economy.
Understanding the impact of COVID-19 to the restaurant industry
33.5 million people have lost jobs since March 2020 — accounting for an unemployment rate of 14.7%.
Restaurants, on average, laid off 91% of their hourly workforce and 70% of salaried employees due to COVID-19 related closures.
Two out of three restaurant employees have lost their jobs.
56% of restaurants have at least $50,000 in new debt as a result of COVID-19.
Over 71% of restaurants had a profit margin of under 10% in 2019.
According to the latest edition of PYMNTS' COVID-19 Brief series, the share of consumers dining at sit-down restaurants had declined 85.2 percent since the pandemic began, dropping 52.3 percent in 11 days.
The National Restaurant Association research found that the industry lost more than $80 billion during the first two months of the pandemic.
A James Beard Foundation survey of restaurant owners reported that more than 38 percent of its respondents had closed their restaurants temporarily, and potentially permanently.
According to the review platform's Local Economic Impact Report, 23,981 eating establishments listed on Yelp experienced some type of closure since March 1 and of those, 53% have since shut down for good.
With a plan focused on modern restaurant technologies, you can still grow your business
Luckily, with the lockdown amid these uncertain times, restaurants found innovative ways to cope with the pandemic.
Many people are turning to future service technologies such as online ordering, take out, contactless, and cloud kitchen for safety, convenience and speed reasons. These options are not only creating a safe social distance between customers and restaurant workers, they are also allowing restaurants to keep their business flowing post-pandemic.
Delivery and takeout are more popular than ever, as interest for both of these categories was up 148% compared to pre-pandemic levels, according to Yelp.
According to Data Essential Report, 92% of restaurant traffic moved to off-premises foodservice.
Drive-thru made up the largest service category
Order-ahead for pickup followed at 23%
To-go registered at 18%.
Consumer behavior has changed forever: Join the future club of restaurant innovators in operations, technology, and marketing
The restaurant industry continues to serve its customers with a fighting spirit with online ordering, delivery, and take out options. Restaurateurs are redefining their roles and services, prioritize the health and safety for all parties, respond to customers' demands on time, and focus on real-time customer data to improve service and loyalty. Otherwise, they have no other option to survive.
If you are looking for creative ways and applications to stay afloat in these chaotic times and move your business to a more certain future, it's time to meet Linga: A complete restaurant software that includes every app and integration for a post-pandemic world.
We have the most advanced solution for your business!
The World's First Cloud-Based Restaurant Operating System with 10+ apps
LINGA, a complete restaurant POS based on cloud technology, offers a true one-stop solution for restaurateurs with a catalog of products designed to run a successful restaurant or a franchise in uncertain times.
Its cloud-based infrastructure is updated monthly automatically.
Accessible from anywhere, anytime, and on any device, in any language and currency.
EMV ready and PCI compliant payment processing for a complete solution.
Adaptable to businesses of all types such as franchises, coffee shops, quick services, full services, bubble tea shops and pizzerias.
Cut costs by providing every essential business tool in a single package.
Increase your profits and protect your customers with LINGA Online Ordering
Linga OLO grows your customer base by giving them the ability to order online from any of your locations worldwide. Maximizes profits with a fast and reliable online ordering process.
A faster and safer ordering and payment process: Linga QR PAY & QR Code Menus
Linga QR Pay and QR code-based menus not only offer safe and quick food service for diners, but it also reduces the number of people in the restaurant, making social distancing easier to achieve.
A safe and hygienic way for your customers to buy food and products during the pandemic: Curbside pickup
Linga Curbside integration allows customers to drive to their favorite restaurants and local stores and pick up their orders without ever getting out of the car.
A more cost-efficient tech-enabled option for food preparation: Linga Cloud Kitchen
Linga Cloud kitchen & Warehousing management software helps businesses get more work done with fewer resources, lowers costs, and increases the efficiency of service and warehouse operations with a centralized system.
Move your restaurant to a safer payment ecosystem with Linga Contactless Payment options
One of the key technologies that will define the post-pandemic world is contactless payments. Contactless technology, which is a secure way of paying for goods and services without the need to physically swipe a card in a machine or hand it to another person, offers a more convenient checkout process. And it is also positive from the social distancing and hygiene aspect, as it reduces the number of contacts between people, and therefore the transmission.
Increase your delivery efficiency with the most effective Driver App
LINGA driver app is designed for both drivers and restaurants for a seamless delivery process. You can quickly assign your drivers to deliveries, speed up the process & manage your restaurant more effectively.
Loyalty programs help you grow sales and encourage repeat visits
LINGA Loyalty is a trackable rewards program that allows you to recognize customer loyalty automatically. No papers to fill, customers sign up easily with a click of a button. With just a couple of clicks your diners can start receiving rewards for each of their purchases.
Turn the crisis into opportunity with LINGA!
Join our expanding network and start offering takeout, curbside services, and delivery now! Increase revenue and customer engagement with the apps and integrations of the future!
To learn more about our 10+ products contact us
Request your free demo now!
Check out our other blog: "What lessons can restaurateurs learn from COVID-19?"