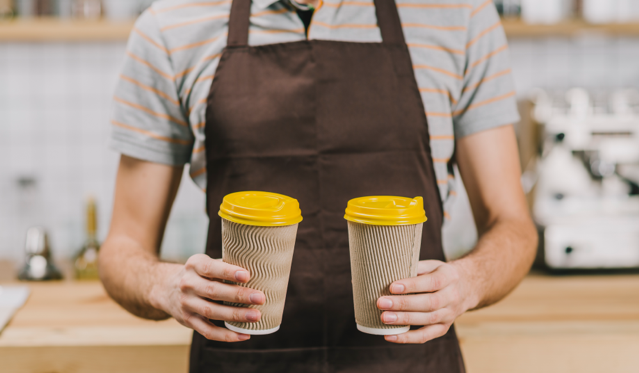 If you are a person who can't start the day without drinking coffee, you are not alone! Americans drink about 400 million cups of coffee every day. And about 110–120 million bags of coffee are produced in the world every year. This timeless business has always been in style, and now can be one of the best times to build your own coffee chain. And to start, all you need is a complete coffee shop POS system that will help you serve your guests better, track your regulars' favorite products, and increase sales.
Running a coffee shop in today's fast-paced café scene is a hard task. Keeping up with customer traffic can be overwhelming. But on the other hand, managing a coffee shop can be extremely profitable if you do it right.
One of the best tactics you can try is investing in a complete cloud-based coffee shop POS system that can help you serve better, bring more revenue, and build your own chain.
Let's explore the top reasons why you need a coffee shop POS system:
Improve The Service and Order Management
Acoffee shop cloud POS can turn things around in terms of order management and service. Coffee shops are usually very fast-paced places and your baristas can miss orders and managing the business can be harder. But a complete digital coffee shop POS software is ideally capable of handling these day-to-day challenges. You can track orders, manage payments and serve faster easily with a digital POS system. Aside from providing an efficient way of receiving and processing orders, a POS for coffee shop eliminates the need for using pen and paper, reduces waste and incorrect customer orders.
Increase Customer Satisfaction with Loyalty Programs
An integrated loyalty program enables you to display your gratitude to regular customers, encourage loyalty, and increase retention. You can create personalized promotions, discounts, and special deals for your customers and build a stronger relationship with them. This way, you can easily encourage your customers to come back to your shop. Loyalty programs provide you the data that helps with identifying regular customers. With an easy-to-implement loyalty program, you can let your customers sign up for loyalty rewards in a few seconds.
Sell The Most Profitable Drinks
At the end of the day, tracking your customers' everyday choices and providing them with their favorite beverages can improve your business. This way, you can understand which one of your products has the highest profit margin. Understanding your beverage costs, your most expensive products, and the most popular drinks can help you build a menu based on profitability and popularity! A digital coffee shop POS system provides you with the data to understand and analyze your products. You can create customized drinks, satisfy your customers, and avoid waste.
Maintain The Right Amount of Inventory
Using a digital coffee shop POS system, you can easily track your supplies and stay on top of your inventory. A customized POS system ensures you will never run out of ingredients and always serve your customers their orders. Maintaining the right amount of inventory also helps reducing waste, overstocking products, and ingredients that are not used often. With the right inventory management system, your customer gets their fresh cup of coffee, and nothing goes to waste.
Handle Payments Easier
A coffee shop software that handles the entire ordering, billing, and payment process easily is crucial. Every second count in coffee shop customer service and payment processing make a big difference during busy hours. A POS system that accepts all kinds of payments (including cash, mobile payments, credit and debit cards, reward points, and more) helps you serve your customers better, faster and keeps your customer queue moving quickly and efficiently.
Store Your Business Data in the Cloud Safely
Data privacy and protection are very crucial both for individuals and businesses. Just by choosing a cloud-based coffee shop POS system, you can keep all your customer data safe with a click. You can store your data easily, track your sales and customer behaviors, monitor your business costs, and charge your guests effectively to hit your profit margins. And there's an added benefit of working in the cloud: you can manage your business from anywhere, on any device, anytime, in any language and currency.
Integrate with Online Ordering
With convenience being the prime factor in choosing where to order for takeout or delivery nearby, it's important for coffee shops to offer the options online customers are currently seeking out. With an integrated online ordering for coffee shop, you can start accepting orders from online customers looking for delivery options nearby easily. Today's customer profile wants a fast and easy way to order their favorite drinks from the comfort of their own smartphone. With coffee shop online order integration, online customers can find you easily. And this means more revenue and growth.
Meet LINGA Coffee SHOP POS System now?