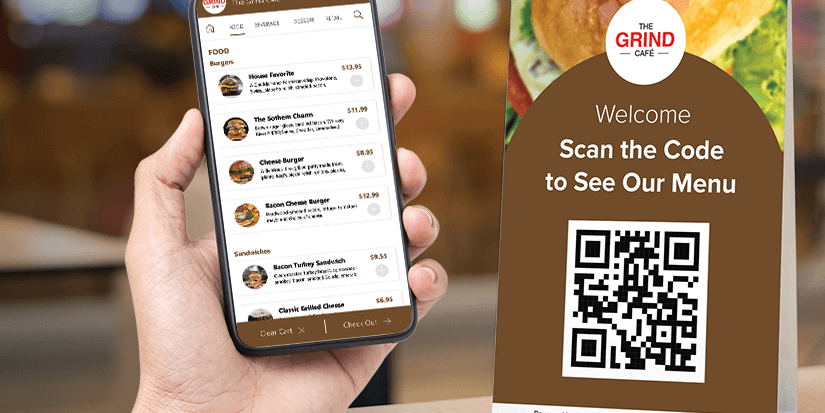 Safe solutions in a post-COVID-19 world
With the coronavirus being front-of-mind for people across the globe, many are still questioning the safety of ordering food to go, for delivery or going out to eat. Questions like: is it too risky to order pickup or delivery? Is there is a safe way to buy food without having direct contact with delivery workers? How can we remain safe, even while eating out?
To combat these concerns, restaurants have begun adopting novel approaches in the form of innovative technologies. This tech of the future includes contactless self-service solutions such as virtual kiosks and QR code-based menus in addition to touch-free payment options (which we will touch on in an upcoming blog post, so stay tuned).
Many chains and local restaurants have reinvented themselves as pickup or delivery services to remain operational in this new world. While people remain in the comfort of their homes due to the pandemic, meal delivery sales have reached new heights. According to the Global Online Food Delivery Services Market – COVID-19 Growth and Change Report, the global online food delivery services market is expected to grow from $107.44 billion in 2019 and to $111.32 billion in 2020 at a growth rate of 3.61 percent.
Is online ordering, take-out and delivery enough for your guests?
Despite social distancing and extra hygiene measures taken by restaurants and third-party service providers, there are plenty of customers still skeptical about the safety of food delivery. And for those, the ultimate answer could be this new ordering model: Virtual ordering.
Many restaurant owners began implementing self-service kiosks long ago to offer diners the best dining experience possible. It offered another layer of guest service that was convenient, quick and easy. It could be personalized, tied to guest loyalty and promotions, and guests could order and pay at their own pace.
A virtual kiosk and its counterpart for table service, the QR code-based menu, is a convenient scan-and-go platform where customers can: place their orders, verify for accuracy, sign up for rewards and make a payment. This virtual ordering model allows businesses to support the safety of their community while providing more and better options for their customers to re-engage.
Benefits of virtual ordering:
Safety first: Virtual kiosks outdoors make the ordering and payment process as safe as possible while reducing the number of people in the restaurant, making social distancing easier to achieve.
Easy and convenient: Customers can place their orders and pay for their meals at their own pace.
Increase in productivity: Everyone loves skipping a long line and getting straight to the order. Virtual kiosks decrease wait times and improve service quality with no additional labor.
Increase in Sales: While offering safe and quick food service for regular diners, virtual kiosks may also attract potential customers who might walk past your restaurant. A cost-effective self-ordering kiosk boosts revenue by increasing average check amounts as well. Guest loyalty and promotional programs are also available to increase return visits and building your reputation.
QR code-based menus: With a no-pressure kiosk or menus at the table, customers can scan the QR code using their phone and browse the menu with ease. Customers can place error-free orders, easily summon their waiters and quickly settle their bill without ever having to ask for the check. QR Codes can easily be mapped to the table.
Secure payment: It allows customers to pay using their payment option of choice: Apple Pay, Samsung Pay, credit and debit cards and many others. Contactless, secure and safe!
Happy Customers: Customers feel appreciated that they are being provided a fully secure and safe option with the best guest and checkout experience possible.
Sustainable and eco-friendly: When the ordering, payment and the menu is virtual, there is no waste. A virtual kiosk is a convenient option for environmentally conscious customers.
More Sales, Less Waiting and Happier Customers with LINGA Virtual Kiosk!
Linga Kiosk, a self-ordering kiosk for restaurants, offers speed, better guest experience, and immediate ROI. To keep your customers and staff safe and handle your guests with user-friendly self-serve options, just relax and enjoy the convenience of LINGA!
How does it work?
With Linga virtual kiosks placed indoors and with social distancing rules, customers can quickly place their orders and pay for their meals with ease.
Customers can scan the QR code – placed on virtual kiosk or QR code-based menus – using their phone to view the menu. They can take their time and browse the menu ingredients with ease.
While the orders are routed directly to the kitchen without waiting, customers easily pay for their meals with a quick and easy checkout process.
Customers can add tips, verify for accuracy or sign up for loyalty programs.
With messages and special features added to the order screen, customers can enjoy special promotions and campaigns created just for them.
LINGA Kiosk, a cost-effective innovation for your business, can be the best solution to remain operational and provide a safe ordering and payment process for your customers.