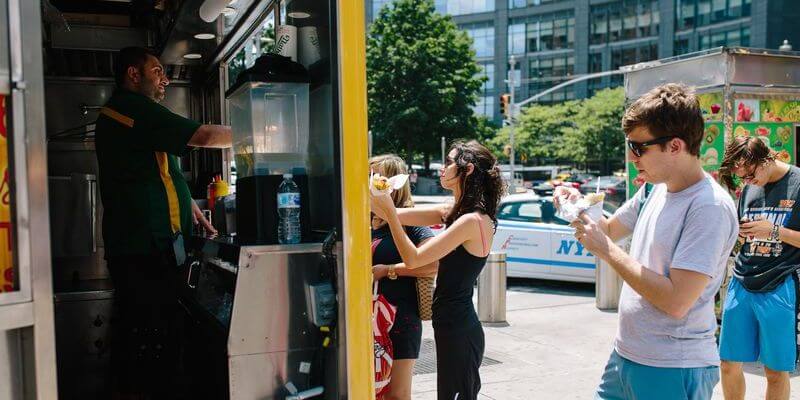 Discovering the prime location, cooking fantastic food, and appealing to hungry constituents are three of the key ingredients to running a successful food truck. The final key ingredient is to choose the best food truck POS system. With the right food truck POS, you can stay organized, analyze data, manage payments, and keep orders straight. Whether you have one food truck or multiple locations, the right POS can help you to get your food out of the door (or window) and into the eager hands of your hungry patrons.
The Best Food Truck POS Features
When it comes to food trucks, one thing is certain … a good POS can help you to keep customers happy as you serve-up your delicious creations. With this in mind, you should look for the following five food truck POS features.
Online or Offline Compatibility. — Food trucks have expanded from the busy city streets to quiet suburban towns and back country farmer's markets. The wide range of optimal locations can often mean that a strong Internet signal is lacking. Fortunately, the best food truck POS will work with or without WiFi. Additionally, you should look for a POS that can be used to create a WiFi hotspot for your customers. Be sure to create a WiFi form that asks for your customers' information in return for using your WiFi hotspot. You can then use the captured customer data to send coupons, loyalty points, and other promotional offers to encourage repeat business.
Payment Flexibility. — The best food truck POS will give you the flexibility that you need to easily split or combine checks, transfer items to separate checks, and provide customers with digital receipts. The POS should also be able to accept digital signatures and automatically save the signed receipts to your secure cloud location. The latter feature will save you money, paper, and time, while simultaneously helping you to stay organized.
Faster Delivery. — With delivery services like UberEats, Seamless, and DoorDash, no one wants to wait for food. In fact, through the latter delivery services (and many others), your food truck can become even more mobile as it serves customers in front of your busy window and throughout the local area. Unfortunately, the wrong food truck POS can slow down deliveries. Be sure to choose a food truck POS system that has a delivery dispatch feature that allows you to track both your drivers and those of other delivery services.
Customization Made Easy. — While you might have a set menu, many of your customers will probably want to customize their orders to meet their specific tastes. Fortunately, the best POS can be used to more easily customize food options, create mandatory modifiers, and automatically adjust prices to help ensure your profitability. Not only will your POS help you to customize food options, but it will make it easier to reward your customers for their continued loyalty. Through menu item categories, set happy hour features, and reward programs, your customers can enjoy discounts and the benefits of visiting your food trucks again and again.
Lower Operating Costs. — Did you know that the best food truck POS system will help you to lower your operating costs? With cost analysis features, price comparisons, and the ability to calculate the cost of each ingredient on your menu, the best POS can help you to ensure that your profitability margins are maintained throughout the year.
The Bottom Line: Choose The Food Truck POS System That Aligns With Your Priorities
Choosing the right food truck POS for your growing business is made easier when you look for a system that has the above five features. With this in mind, you should always ensure that your POS is aligned with your food truck priorities. Whether you want to maximize profits, ensure speedy delivery, accurately track sale information, or accept different forms of payment, the right food truck POS will help you to create a successful (and profitable) food truck.