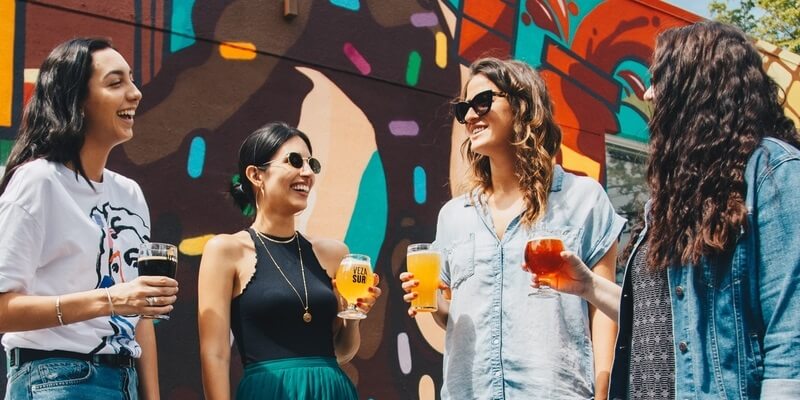 We can all learn a lot from companies who are embracing technology and offering the most in-demand restaurant features. They are completely aware of the fact that Generation Z and their slightly older counterparts, the millennials, use their phones for much more than phone calls and web searches. Companies such as Apple have created entire platforms for programs and applications. These digital playgrounds make exploring, buying and sharing simple. In fact, most businesses can now be managed entirely, with real-time reporting, from the same program, on any connected device.
Why Appeal to Generation Z
According to projections, in the year 2020 Generation Z—people born between 1996 and 2012—will be responsible for up to 40 percent of consumer spending. For restaurants, pizzerias, bars, café's and quick-service restaurants Gen Z is the next new market. Offering the latest and most requested restaurant features is critical in staying in the lunch/dinner conversation. Getting them in the door and then keeping them coming back should be on the top of the priority list. Especially since, on average, GenZers spend 20% of their income on food and food-related services (such as 3rd party delivery services). With the ability to impact so much of a brand's bottom line, "Gen Z" is a force every business should be looking to attract.
What do GenZers want in a Restaurant?
Mobile Ordering
This is a no-brainer; brands need a mobile app to interact with their more tech-oriented customers. A good example is the custom-built Turco Taco ordering site and app. Features like save your favorite, order ahead, and saved payment method, the Turco Taco app play to Gen Z's need for speed. Also, their desire to be in control of what, how and when they order is satisfied. Their taco restaurant features the newest rOS program from Linga, including the latest in restaurant management technology.
Facebook and Instagram Accounts
Because GenZers live and breathe social media, restaurants need to be consistent with daily posts, videos, and specials. They also need to listen to reviews and solicit thoughtful feedback. In the end, a one-point improvement in a restaurant's Yelp review can mean up to 10 percent increase in sales. And, let's not forget that 82 percent of GenZers search online before deciding where to eat.
Pay at the Table options
Appealing to the GenZer's sense of immediacy, tableside payments can save as much as 12 minutes at the end of a meal. In addition, when fully integrated with the restaurant's POS system, it enables the customer to settle the bill and leave when they want. Customers don't want to waste valuable time waiting for staff to take care of them.
Franchise Loyalty Programs
Guest engagement programs could be key to winning over Gen Z. With a loyalty program connected to a single or multiple location franchise, guests, on average, visit 6 percent more frequently. They simply place their order and collect reward points. A well-designed and executed loyalty program will help a brand collect data, understand their guests, and engage with them on a one-to-one level. It also enables discounts and other promotions that will motivate repeat GenZer visits.
Self-Ordering Kiosk
Providing a streamlined experience for GenZers who want to order food without waiting in long lines is key. Plus, when integrated with both the POS and the brand loyalty program, a self-service kiosk can take the order, upsell a special, offer a loyalty sign in, and process the payment.
Final Thoughts on Restaurant Features
In the end, the faster an audience can connect with you the quicker you'll have the upper hand against the competition. Fast, seamless, technology is required to interact with this tech-native generation that expects restaurants to recognize and reward them on an individual, one-to-one basis.