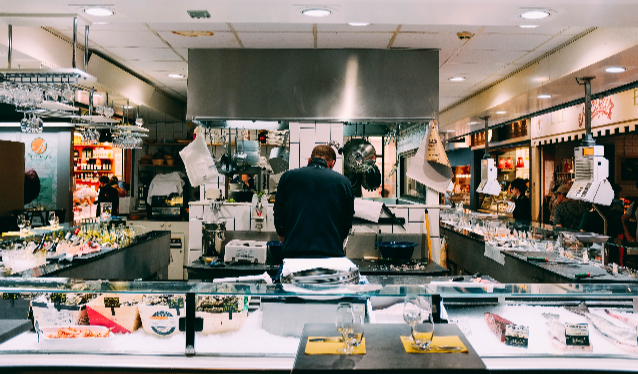 7 Reasons Why You Should Implement the LINGA KDS in Your Restaurant Right Now!
If you're dreaming of running a franchise empire, implementing the right technology can help you grow your restaurant business into multiple locations. But when we talk about restaurant technology, we often think of the front-of-house operations such as online ordering and contactless payments, and we often miss the crucial importance of backend operations.
A kitchen display system is the engine room of your restaurant's back of house operations and helps you increase communication in busy kitchens, reduce mistakes, and improve service.
Kitchen Display Systems, known as digital dining dashboards, replace the need for old kitchen order ticketing (KOT) systems in restaurants and make the meal ordering and preparation process much more effective and faster.
What is LINGA KDS System?
LINGA Kitchen Display System (KDS) is, in effect, a digital dashboard for your kitchen staff. The system integrates with a POS system, replaces handwritten or printed tickets and helps you improve communication and reduce human errors.
– Connects front-of-house staff to the kitchen to deliver a faster and high-quality service.
– Monitors the time it takes to prepare each dish.
– Allows you to track demand and revenue across every channel: dine-in, drive-through, take-out and delivery.
What are the features of LINGA KDS?
LINGA restaurant operating system is designed with the latest kitchen display system technology built-in and ready to go. Cloud-based and updated with new features and functions, this high-quality system can be customized to suit all your needs and expectations. Allows you to ensure your customers always receive their orders on time and boosts productivity.
Track Order Completion: You can see completed orders and orders that are in progress.
Color-Coded Display: You can organize menu items by type and assign them colors.
Track Cooking Times & Measure Speed: Helps you track and improve the time required to prepare dishes. You can measure and analyze the speed of your kitchen members easily.
Send Menu Items by Type and Route to Specific Kitchen Printers: You can group the menu items you send to your kitchen staff by type (appetizer, entrée, salad, dessert) and route to a specific display for quicker and easier order distribution.
Real-time Order Changes: You can see changes to orders instantly on the KDS.
Supports Large Menus: Customizable to support complex menus.
Send Text Messages When The Order is Completed: LINGA's automatic text message function allows you to let your guests and staff know immediately when the food is ready.
Transform Your Business with LINGA Kitchen Display System
LINGA KDS Benefits:
Effective & Fast Order Taking Process
As a mediator between the staff who takes the order, and the chef who prepares the order, LINGA KDS reduces the time gap between the order taking and preparing process. By minimizing miscommunication and human errors in busy kitchens, you can make your backend operations faster and more effective than before.
Less Waste & Cheaper
As a one-time investment, kitchen display screens are cheaper than the paper KOT systems. LINGA KDS reduces paper waste by eliminating paper tickets and is environmentally friendly. By improving communication between staff and the kitchen, display screens also contribute to less food waste.
Inventory Tracking
LINGA KDS helps you manage your inventory better. With digital kitchen dashboards, you can keep track of purchasing patterns, make sure your stock levels are always monitored, and manage inventory levels. The kitchen display system allows you to be in the loop in case of shortfalls, and you can pre-plan better.
Streamlined Kitchen Operations
LINGA's innovative KDS technology allows you to display specific items on specific screens. Helps your staff manage incoming orders effectively with a system that classifies incoming orders by item and stage they are in. You can track order progress with color-coded status on display, send the food orders to the kitchen, drink orders to the bar, and more. This makes managing the kitchen far easier for your front-of-house and back-of-house staff and streamlines operations.
Improved Communication & Service & Order Accuracy
LINGA KDS helps customize the kitchen workflow, especially in the case of franchise restaurants. Multi-kitchen enterprises can increase the communication in busy kitchens and improve their service with LINGA KDS. Orders sent to the kitchen appear instantly on the Kitchen Display System and alert the kitchen members with a loud, accompanying chime. This provides order accuracy and hastens the service process. Faster service means less waiting and happier customers.
Integrated Online Ordering
With LINGA KDS, online and takeaway orders are fully integrated into your kitchen operation without any extra effort. Your kitchen display system routes orders from LINGA OLO directly to the kitchen, with no need for your staff to manually re-enter orders into your POS system. This eliminates the risk of missed or inaccurate orders and improves the online ordering process.
Detailed Analytics
LINGA KDS also helps you keep track of your business and measure and analyze the speed of your kitchen members. The KDS gives you in-depth reports through which you can track the time required to prepare dishes. Accurate data captured can provide insight into the time and resources are being spent on each order. This information can be used to optimize your kitchen operations, support your staff and boost productivity.
For those who want to expand their operations, grow their empire and manage their restaurant business more effectively, LINGA KDS is the need of the hour. Whether you're looking to reduce order mistakes, improve communication, increase customer satisfaction, or offer faster service to your customers, LINGA KDS may be the right solution for you.
Want to try LINGA KDS?