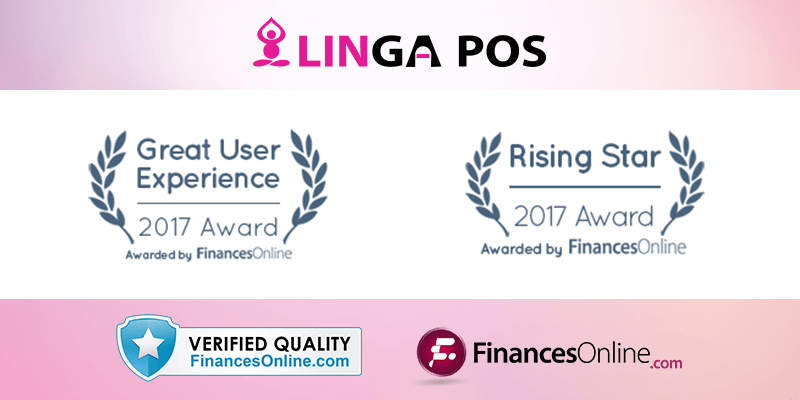 Financesonline.com recognized Linga POS as a Rising Star and Great Usability in restaurant technology category
Linga POS was recently reviewed by FinancesOnline, a popular B2B software review platform. The review touted the breadth of features, ease of use, and always-on reliability of the restaurant and bar software system.
In evaluating Linga POS for its 2017 Great User Experience award for top POS software alternatives, FinancesOnline's team of software experts examined and compared Linga point of sale against its competitors in various scenarios. Some of the specific aspects their team noted include:
The cloud-based, mobile, and always-on reliability of Linga for iPads.
Integration with KDS in real time.
International customer base and support for 30 languages and currencies.
Ability to set user roles and permissions across a multi-location enterprise.
Powerful reporting options for sales, refunds, payroll, food costs analysis, and inventory.
All pricing levels, including the free POS option, $19.99 base package, and enterprise options.
The ability to use the system to manage security cameras, customer loyalty programs, text alerts, even room temperature.
According to the FinancesOnline review, "Linga POS is a highly advanced cloud-based iPad point-of-sale system designed to streamline and simplify POS-related functions."
We're also excited to be chosen as a restaurant software Rising Star for 2017. In addition to this, we also landed a spot in FinancesOnline POS list. With new features released monthly, like the recently integration for Central Warehouse and Cloud Kitchen, Linga POS is poised to amaze even more restaurant owners in 2018.
Please visit FinancesOnline.com to post your own review of Linga POS, and thanks for your support through another amazing year. We can't wait to show you what's in store for 2018!