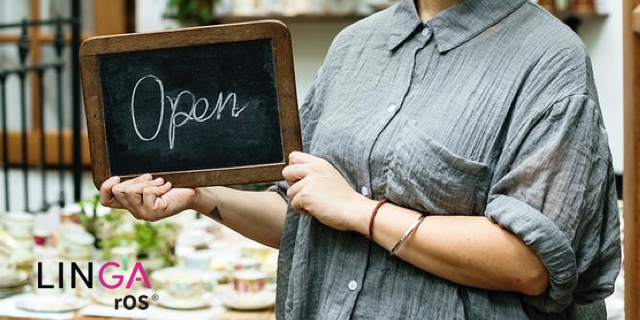 Linga rOS®, the world's first cloud-based restaurant operating system, recently added 17 more countries for processing to serve its restaurant customers, expanding its digital services to 48 countries.
Linga rOS® is the first all-in-one cloud-based restaurant operating system with every feature needed to run a business efficiently. Including a set of integrations such as Online Ordering, QR code-based menus, virtual kiosks, and Linga Pay, Linga rOS® offers all the business tools that restaurant operators need the most. Linga rOS® is now available in 48 countries helping restaurants to keep up with ever-changing customer expectations.

The future is contactless
Contactless payments were already growing in popularity before the pandemic simply because of the increasing demand for fast and easy-to-use services and better customer experience. While many countries were moving towards a digital payment ecosystem and away from cash payments, the new social distancing and hygiene rules have hastened the transition on a global scale. According to the 2020 Annual U.S. Debit Card Market Data Review, contactless usage has grown 150% since March 2019, and 45% of US consumers now prefer to shop at stores that have contactless POS.
Linga's contactless ecosystem, including online ordering, virtual kiosk, QR code-based menu, and contactless payment modules, offers a more secure, more efficient, and faster order & checkout process to restaurant customers.

Online Ordering drives the future of the restaurant industry
Linga's gamechanger product Linga OLO is an online ordering tool that comes integrated with Linga rOS®. With seamless features (branded mobile app, website ordering, auto menu sync, marketing assistance, data analytics, and customer loyalty programs) only designed for restaurants in mind, Linga online ordering is a perfect choice for restaurants to start accepting orders from online customers looking for delivery options nearby.

Fast, easy, and safe payment processing with Linga Pay
Linga Pay offers businesses a fast, easy, and secure payment process with 100% EMV and PCI compliant programs. With trackable and transparent contactless payment services based on consumer data, Linga provides solutions (Secure and high-speed processing, customer insights with data analytics, funding options based on customer needs, etc.) that address the unique needs of its customers.

QR Code Menu & Virtual Kiosk Technology: A genius way to unlock contactless dining
The virtual Kiosk & QR code-based menu is another innovative tool designed by Linga for restaurants to respond quickly to customers' needs for safety, speed, and convenience. With virtual kiosks placed inside or outside restaurants, guests can scan the QR code from any camera and mobile-enabled device to view the menu, order, and pay just in seconds. Linga virtual ordering model allows businesses to support the safety of their community while providing more and better options for their customers to re-engage.

Linga continues its growth journey globally
Adding 17 more countries to its expanding network, Linga continues its inclusive and sustainable growth globally. Linga is now present in 48 countries with its digital ordering services for restaurants to prepare them for the future restaurant industry.
Contact us: https://www.lingaros.com/contact-us/

About Linga rOS®
Launched early in 2015, Linga rOS® is a cloud-based restaurant operating system that provides every essential business tool in a single package to run a successful restaurant business. Including a set of integrations such as point of sale, easy online ordering, self-service kiosk, loyalty&reward program, inventory management, KDS, customer display, waitlist, central kitchen&warehouse, caller ID, simple scheduling, and call center, Linga rOS® is an innovative response to the demand for a one-stop solution for restaurant owners. Linga restaurant operating system allows businesses to leverage technology to streamline operations, increase revenue, and improve guest experiences.