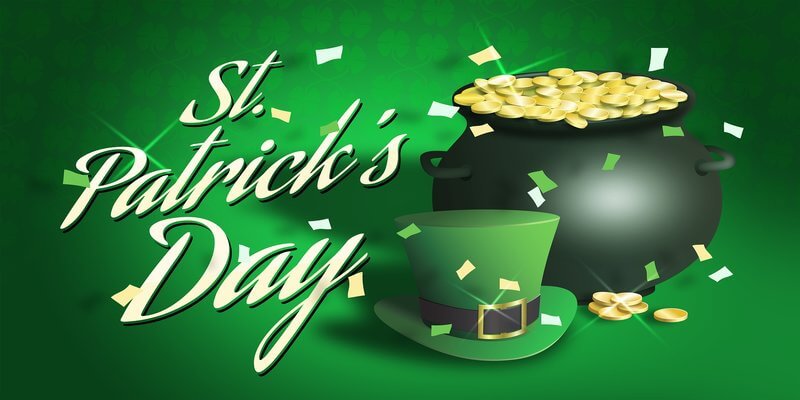 8 Tips on How to Prepare
We are almost halfway through March, and that means St. Patrick Day is drawing closer and closer. It's an exciting time for restaurants and bars to partake in one of the busiest times of year. It's when the leprechauns, green giants, and shamrock dressed patrons come out to enjoy a great heritage.
St. Patrick's Day started in the early 17th century as an Irish holiday to celebrate the death of Saint Patrick and the arrival of Christianity to Ireland. Historically, it was also the day that Lenten restrictions on eating and drinking were lifted. Today it is a global holiday involving parades, festivals, good food, and good drinks. In the U.S. it's one of the highest revenue earning days for bars and restaurants. Check out our eight tips below on how to prepare and bring luck to your restaurant for St. Patrick's Day.
1. Decorations
Before you begin planning your decorations, make sure you research some of the holiday's heritage. You don't want anything that goes with another holiday out and confusing people. Some great St. Patrick's Day decorations would include things like green glow sticks, green shamrock paper cutouts, leprechaun hats, etc. Don't be afraid to go all out with St. Patrick's Day and remember it only comes once a year!
2. Food
When most people think of St. Patrick's Day, they tend to think of alcohol more than food. It's surprising, but back when the holiday first started; the Irish were much more famous for their food. Don't be afraid to add some Irish dishes or accents to your menu. People love dishes like Shepard's pie, corned beef, and cabbage. Irish food can be very inexpensive and easy to make for a large volume of customers. You can also make the food fun and serve green eggs, green sandwiches, etc.

3. Drinks
Having a theme with your drink menu is crucial for St. Patrick's Day. People want to see green beer, Irish car bombs, and four leaf clovers around their glasses. If your restaurant doesn't serve alcohol, don't worry! You can serve mint milkshakes and green soda as a way to promote St. Patrick's Day. You can even incorporate your alcoholic or non-alcoholic drinks into themed specials.
4. Contests/Events/Entertainment
It's not enough to hang shamrock cutouts around your restaurant. St. Patrick's Day is known as one of the wildest holidays during spring. You have to create a fun atmosphere where people want to stay and get lucky! You will want to do some research on some good Irish music. The Irish have a wide selection of dancing and drinking songs to surely get your customers laughing and joining in on the fun. In addition to music, you may want to consider doing some contests and giveaways. For contests, you could do trivia or costume contests, and give away free drinks or meals for winners.
5. Marketing
Promote, promote, and keep promoting. No one is going to know about your St. Patrick's Day festivities unless you put it out there. If they do, they just think it's nothing special and just like every other St. Patrick's Day event. It's important to market your restaurant for St. Patrick's Day before, during, and after the event. Start with sending out social media posts and invites that say what the event will be about. You can also add that there will be food and drink specials. You shouldn't add exactly what those specials will be until your event is only 1 or 2 days away. That way, the excitement is always growing. Once your event closes, it's important to do some press releases and additional social media to say how good the event went.
6. Staff
Do you have enough staff to handle such a large event? You never want to be understaffed during a large event, especially during a holiday. It's important your staff is well-trained and considerate of all guests. You always want to be prepared for glasses breaking, people fighting, and messes being made. Next, ensure your staff is dressed themed or in green attire with your brand. Tell your staff to do what they can to add to the experience, but not make any trouble with the customers. It's never good if your staff decides to drink with customers.
7. Equipment
If you prepare for St. Patrick's Day properly than you expect and prepare for a large crowd. Whether you will be serving people in only a bar, or both a bar and a restaurant it's important to have all necessary serving equipment. Ensure your POS system is up-to-date with the latest functionality. With today's POS system you can manage your promotional events, inventory, transactions, and table turnover from one central location. You wouldn't want even one area crashing during a high volume event.
8. Inventory
Don't leave your inventory levels to luck! When you have large crowds, it can bring unexpected highs and lows of inventory. It's important to analyze a few metrics so you come as close as you can to unexpected crowd levels. Take a look at the previous year, how much did you spend and how much did you use. Were you under volume? Or Are you over volume? Most places generally stay the same from year-to-year. However, you may need to do some additional research if a heavy amount of competition recently moved into the area, or food prices increased heavily.