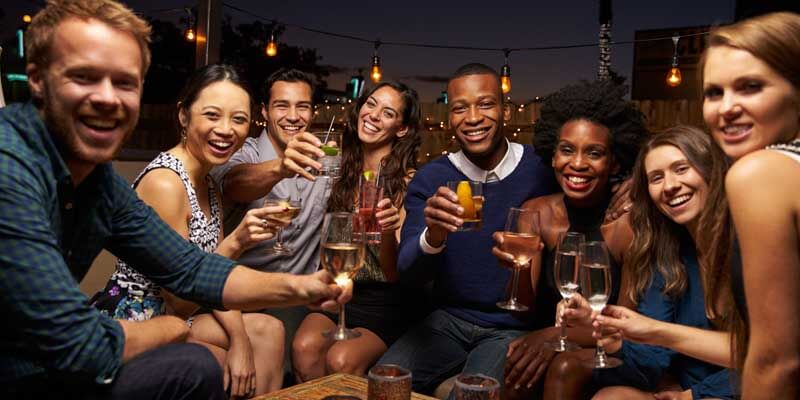 It's pretty well–known that offering traditional happy hours are a great way to bring in more customers and increase sales. Happy hours can also be a great way to increase customer retention. Creating special events during low traffic customer times is a strategy that many restaurant operators use to build their business. People come running for discounts, and if it allows them to overindulge for one afternoon or night time for a cheaper cost, why would they not want to come back? Good food, good drinks, and good company are always at the top of people's lists when they have had a long day or week. Happy hours can be implemented before or after any meal at your restaurant. However, restaurants or bars typically do them before or after dinner with the goal of having people stay through dinner or into the night to order off of their full–priced menu. But what will make people want to pick your restaurant over your competition? How will you get the word out? What will make your event special? Read on for 6 tips on how to have a successful happy hour at your restaurant.
1. Understand Your Audience
Happy hours can be a great way to attract younger customers, especially during evening hours. These people are looking to blow off some steam from work or school, and find a great place to relax and have some fun. According to the National Restaurant Association, over half of customers under 35 make late-night restaurant visits a few times a month. Even better, is that a third of restaurant customers 18-35 said they would visit restaurants more often if they were open later. So it's easy to say that most happy hours should cater to the younger audiences. On top of having drink or food specials, you may want to have some other form of entertainment that attracts your main audience.
2. Have the Right Offer
Sorry, but offering discounts on your worst selling items will not cut it for a successful happy hour. They are not selling for a reason, and offering a small discount will not help them sell more. People want to go to a happy hour where they can score a deal on their favorite drink or food items. Special pricing on drinks may also not be enough for consumers. Your target audience might prefer your food selection more. Food happy hours can be just as profitable as drink happy hours if done right.
3. Train Your Staff
Make sure your staff is well trained and ready to promote a successful experience for customers. Happy hour is not just used to drive in more people, but also as a way to get them to continue into mealtime or regular restaurant hours. Remember, you are offering your products at a discounted price, and you are making less money on those items than if you served the same volume of people during regular hours. If you are promoting a happy hour to transition into a meal, you can have your servers talk up popular menu items. Then if you are trying to get people to transition into more of a late night, you can have your servers talk up entertainment.
4. Promote, Promote, & Promote
Make sure you promote your happy hour. If people don't know about it, then they won't come. Additionally, different sells. Innovative happy hour themes will ultimately lead to more success than just having the lowest priced drinks in town. If you serve the lowest priced drinks in town, but you have no entertainment. How likely are people to return? People are not just in it for the discounts but also the experience. You should consider partnering with groups in and around your restaurant. As a marketing strategy, you can send direct mail to local businesses as the place to go. You can even include discount cards, so people have to bring them to your restaurant to participate in the happy hour, and you can track where they come from.
5. Create a "Happy Hour Only" Menu
It's really simple to do what other people do and put a few of your drinks on special and call it a day. You should try putting out a happy hour specific menu.  On that menu, you can put things that are only offered during happy hour. That way, if people really enjoy them then they keep coming during that time. A good happy hour menu doesn't offer both food and drinks. You don't want to give away too much, and you want to give your customers something to lead them to order off the full price menu later on.
6. Add Some Entertainment
A successful restaurant not only has good food and drinks but also a lively atmosphere to match. Most people go to happy hour as a way to interact with other people. There are not many people who go to a happy hour alone. So people are looking for the full experience when it comes to which restaurant event they will be attending. A successful restaurant will add things like music, trivia, karaoke, bingo, etc. into their happy hours. Adding some extra entertainment will allow your guests.
Conclusion
It's not about just about implementing any old happy hour for your restaurant. It's about doing something different and setting yourself apart from your competition. Don't just host a happy hour, have a restaurant happy hour that gets your customers talking.