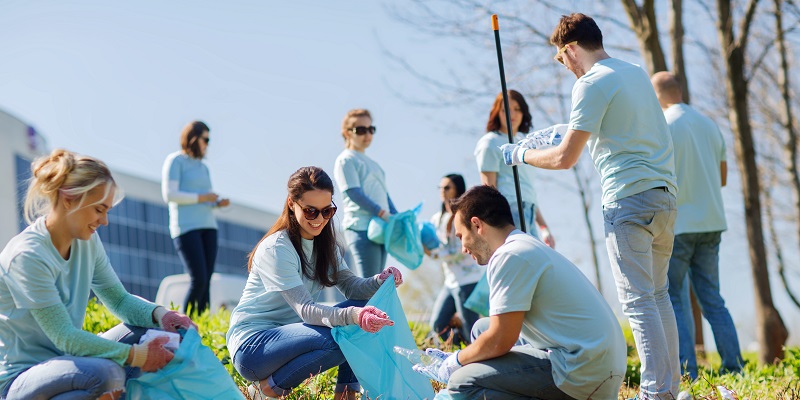 Whether you are quick service, food truck, pizza, or fine dining restaurant, it's important to find ways to give back to your community. According to the National Restaurant Association, 94% of restaurants make charitable contributions, and their contributions mostly go to their local community. During a disaster, restaurants become the backbone of support by providing food and beverages to first responders of those affected. As a restaurant owner, giving back can create buzz for your restaurant, add to staff morale, and set you apart from competition. Getting involved with a charity or giving back with your restaurant also doesn't have to be as complicated or costly as you might think. Check out our list of different ways your restaurant can give back to your local community below.
1. Host a Food Drive
Hosting a food drive is one of the easier things to do. You can make it a one day affair or have it last for a full month. Just setup an area in your restaurant to showcase it and a place where people can drop off their food items. Depending on the types of food you to decide to accept, will be the determinant of how much space you need. Accepting perishable food can be a bit more challenging than accepting just nonperishable foods.
2. Pick a Charity to Support
It's important to pick a charity to associate your restaurant with. Every charity is a great charity to give to, but it might be a good idea to pick one that closely relates to your restaurant's target audience. Supporting a charity can show people how you support the local community. Additionally, it can only help your restaurant's brand and values.
3. Donate to a Food Bank
Donating to a food bank can always be helpful for both adults and children in your local area. You can't always have locally grown inventory especially during the winter months so try starting with giving away non-perishables. If you want to go the next step, start thinking about the ingredients in your menu. Communicate with your local food bank and plan your menu around items they might need.
4. Give Back to Local Schools
In 2016, one in five children in the United States struggled with hunger according to No Kid Hungry. No Kid Hungry is known for their initiatives in school breakfast and summer food programs for children. They found that by having a school breakfast, students scored 17.5% higher in math than those schools that don't have breakfast programs. Children are our future, and giving them the nourishment they need will go a long way.
5. Host or Deliver Holiday Celebrations for the Homeless
Homeless people usually don't have a family they can visit during holiday seasons, and most of the time they haven't had a decent meal in a very long time. You can put on an event at your restaurant to food them or you can go around town and deliver meals for them.
6. Outside Restaurant Staff Volunteer Event
It's important to look at staff's interests before scheduling a volunteer activity outside of your restaurant. If you peak their interest, you will create more buzz and volume of participation in the event. Many employers also try to pick charity events that are hands on and great for staff skill building. Some great charities/events that many of the big companies stay involved in are Habitat for Humanity, Salvation Army, and Boys & Girls Clubs of America. Practicing working as a team in a charity event, will only help things during business hours,
7. Give a Percentage of Your Sales
Are sales looking good? There are many companies who select a day of the week and donate to a particular charity of their choosing. You should market this day or event as much as possible so you can drive up business, and therefore increase your customer base. It doesn't have to be your busiest day to give all your profits. It's not about the amount you give, but the action of actually doing it.
8. Ask your customers
Don't be afraid to ask your customers to give back to the local community. They will be glad you asked. There is a surprising amount of customers who lose their coin change when they pay with cash. Why not have it go somewhere meaningful instead of the creases between their car seats. Ray Kroc, from McDonalds once said, "None of us is as good as all of us." McDonalds is a great company and how they ask for donations from their customers. They leave spare change bins around each of their franchises for patrons to give what they can to the Ronald McDonald House. McDonalds has many other outlets besides instore on how they advertise for donations to the Ronald McDonald house.
9. Partner With Other Local Businesses
Just like you, other businesses and industries are looking to give back to the local community. Your partnership will give you double the publicity at sometimes half the cost. If your restaurant is located in a shopping center, you can put on events where patrons can experience dual services between you and your neighbor.
10. Fundraisers
Fundraisers are especially good for fine dining restaurants. It's a great opportunity for people to get dressed up in their finest attire to donate more than pocket change to their favorite causes. You can host auctions, contests, or even charge by the plate to donate to a charity you decide to partner with for the event.
11. Donate Any Unused Food
If you had an irregular week or you don't have a sufficient inventory management system, try donating any food you don't use. There are many programs and charities out there that can take your unused food and put it into the hands of many people in need. These programs can also help ease your mind that comes with throwing good food away.
Linga, the most reliable restaurant POS software. This terminal offers an all-in-one restaurant point of sales system with core POS features and easy-to-use software.