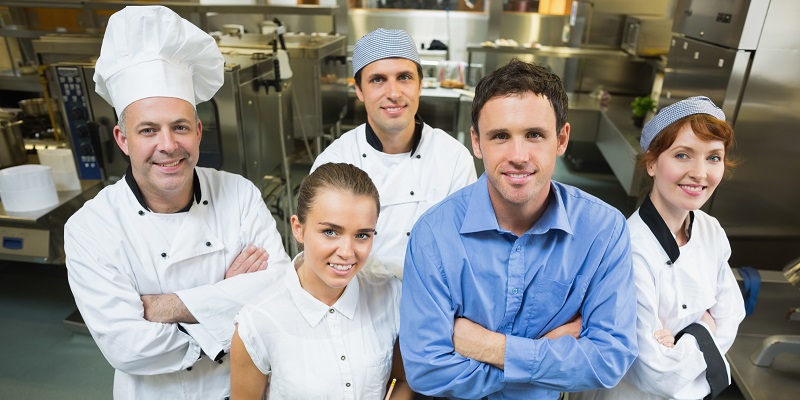 One of the basics to owning a successful restaurant is having a competent and hardworking staff. The interaction between your staff and your customers can be much stronger than any ad or promotional material you put out there. It costs money to market and get customers into your restaurant for the first time. When a guest has a positive experience from a staff member; that's priceless, and no-cost repeat business can be your secret to a booming business. We have outlined below our tips on creating and maintaining a successful staff for your restaurant.
1. Create Successful Training Programs
People want to work in an establishment that allows them to cultivate and grow their professional skills. Let's face it; there are not many people who want to be dishwashers for their entire lives. If you are a leader who develops employees skills, it can encourage them to want to stay and work for you as long as possible. Remember though, it's important to not invest in training programs that are boring or a waste of time. People who get started in the restaurant industry thrive on a busy and creative environment.
2. Create a Fun Environment
When staff is having fun your customers are having fun. Don't be afraid to implement icebreakers or other fun activities to give your staff a break during staff meetings. Running a business doesn't have to serious all of the time. It's important to show your fun side with both your employees and customers; they will thank you for it.
3. Implement Rewards
Competition among your staff is always a healthy plus. It keeps them motivated, and the thought of a reward keeps their drive always moving. Try implementing customer feedback programs like having comment cards at your tables. You can then reward staff for any positive mentions by customers. Remember, rewards don't always have to money. You can offer things like a free meal, a few extra hours off from the restaurant that are paid, or any product giveaways.
4. Ask For Staff Feedback
Just as any employee would ask for feedback, it's important as the restaurant owner you ask for feedback. Any business could always need improvements, and you should always be taking feedback wherever you can get it. Your staff is on the front line interacting with customers so it's important to listen to their observations. If you don't want staff to overstep their roles, have them stick to feedback regarding menu, marketing, or cleaning. If you get the vibe that your staff may not be initially comfortable coming to you for a face to face meeting, try implementing a suggestion box to keep things anonymous.
5. Implement A Teamwork Style Attitude
Restaurants and businesses work extremely well when everyone works as a team. It can be very hard to run a business completely by yourself. It can be a good idea to plan off site teamwork activities to get your staff more involved and get them better prepared for the day-to-day activities within your restaurant. Having a better employee flow to your restaurant can enhance the customer experience and improve food preparation times.
6. Always Be a Model Employee for Your Staff
As the restaurant owner, you are a representation of your business. Your employees look to you first on how to behave and perform within the work environment. Just because you are the owner, doesn't mean you can never go into work, take extremely long vacations, or not respect your employees. Would you want your employees to do that?
7. Always Be Appreciative of Your Staff
No matter how small the task may be, it's always important to be appreciative of your staff. It's probably the easiest thing to do, but it's most often the easiest thing forgotten. Your employees need to know they are doing a good job, and adding an extra thank you will only improve your staff's work environment.
8. Address Staff Conflicts Quickly
Conflict is common among most people. It can be extremely problematic if not handled correctly in the restaurant workplace. First, it can be extremely awkward if customers witness staff fighting so it's best to create action plans on how to handle that. If you interrupt a fight while a customer is watching, it can lead to a much worse situation. When a new staff member is hired, it's important to make them aware of any conflict situation and what effect it could have on their position at your restaurant.
9. Always Be Looking and Implementing Tech Solutions
There are many tech solutions out there that can ease some of the burdens that specific job positions encounter. Even upgrading your POS to encompass other functionality besides handling transactions can improve your employees' processes, and therefore increase your revenue.
10. Be Prepared for Turnover
Every restaurant experiences turnover. Whether it's large turnover or small, it's important to always be prepared. There are quite a few positions within a restaurant where many young people start their first jobs in. They may have to leave your employment because they are going off to college, they want to concentrate their full efforts on school, or they are simply looking to do something different. It's a good idea to always spread the word and create promotional materials through schools in the area. Having an after school or summer job, can keep a lot of kids out of trouble. If you find a long-time employee or employees are leaving, it's important to take look at your internal structure. Is there anything you could offer for them to stay?
Read about – Wait Staff: Do's and Don'ts | Restaurant Waiter Server