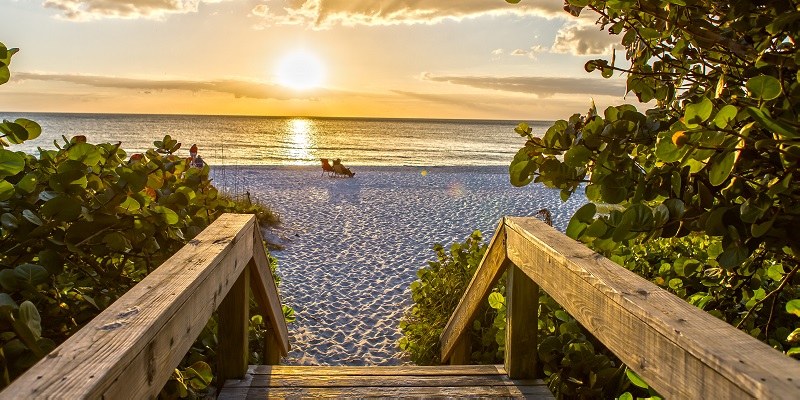 Our Favorite Local Restaurants in Naples, FL
Today we celebrate the success of all small businesses across the country. They are the backbone and heart of this country. National Mom and Pop Business Owners Day is celebrated every year on March 29th. Rick and Margie Segel founded National Mom and Pop Business Owners Day as a way to honor people like their parents who started a successful hat store in 1939. We wanted to recognize fifteen of our favorite small neighborhood restaurants you can only find in our backyard, Naples, FL. Just click on each restaurant's name if you wish to learn more about them.
1. Mediterrano
Rated number 1 on Trip Advisor out of 747 restaurants in Naples, this amazing restaurant specializes in Mediterranean cuisine. Their menu consists of flavorful dishes from Spain, Greece, Italy, Morocco, and many others that border the Mediterranean Sea. It's a local favorite where residents and tourists come to enjoy world class hospitality.
2. Citrus Seafood
If you are looking for the best seafood in Naples, look no further than Citrus Seafood. Enjoy a variety of dishes from stone crab to octopus. Right on Naples famous 5th Avenue, you can enjoy all that Naples has to offer with their incredible patio seating.
3. EJ's Bayfront Café
Enjoy the best breakfast, lunch, and brunch at EJ's Bayfront Café. EJ's is owned and operated by local Naples resident, Eric J Becker who was a graduate of Le Cordon Bleu College of Culinary Arts in St. Louis, Missouri. At EJs you can enjoy Bayfront views while you enjoy your favorite breakfast or lunch menu item. EJ's is also pet friendly, so don't forget to bring best friend to enjoy the charming atmosphere with.
4. Maria D'anna Café
Ranked number 1 on Yelp, this restaurant thrives on serving healthy, fresh gourmet food. Their menu is Polish inspired and is surely not a place to be missed. This is a small restaurant that is popular because of the loyal following from its customers. Customers love their Homestyle cooking and a fine dining atmosphere.
5. Grouper & Chips
This place is a local favorite with a strong following from both residents and tourists. Ranked number 6 on yelp, it has the best grouper you can get. Grouper & Chips has been in business for over 21 years and is one of Naples' best kept secrets. Chef Francis Pischner gives new meaning to amazing cuisine hole-in-wall restaurants. It's easy to see why this place has a long list of positive reviews.
6. bha! bha! Persian Bistro
Ranked number 3 on trip Advisor, this restaurant is perfect if you are looking for a fine dining experience with a menu rich of flavors. Located on famous 5th Avenue South, enjoy rich Persian cuisine in a luxurious atmosphere.
7. Bay House Restaurant
The Bay House Restaurant was ranked number 1 as the restaurant with the best dining water views by USA Today. It's situated over the Cocohatchee Bay and is known as of the best seafood restaurants in the area. They serve Southern-inspired and bistro-style dishes that are sure to mix well with excellent views surrounding the restaurant.
8. The Turtle Club
If you are looking to dine directly on the beach than the Turtle Club is perfect for the ultimate dining experience. The Turtle Club first started in 1998 by mike Moore and Peter Tierney on the land of the Vanderbilt Beach Resort. The Turtle Club has come to represent the mold or relationship between Olde Florida and New Florida in Naples. This restaurant excels at combining a sophisticated cuisine in a relaxed casual beach environment.
9. Fuse Global Cuisine
Looking for a place with a variety of flavors? Fuse is the best local spot to get a variety of menu items from around the world. Greg Scarlatos is the chef and owner of Fuse Global cuisine understands how to mix ingredients in the perfect balance to create mouth-watering dishes that are surely not to disappoint.
10. Caffe dell'Amore
Let's face it; everyone loves a good Italian restaurant, especially one that can bring the tradition and ambiance to a Florida beach community. This restaurant is inspired by Italian tradition with their generations-old recipes. They actually important some of their ingredients from Italy to give you an authentic feel of actually eating in Italy.
11. Rumba Cuban Café
Cuban food has a way of melting the soul. It's the ultimate comfort food, anyone is sure to enjoy. Ranked as number 2 on Trip Advisor, it's a great place to go as a resident of Naples or if you are just visiting the area. At Rumba Cuban Café, you will be wowed by the authentic food and atmosphere.
12. Brooks Gourmet Burgers & Dogs
Ever ate a donut burger? That's right, a burger that uses donuts as the bun. Well Brook's Gourmet Burgers & Dogs knows how to do them right. Brooks was voted one of the top 10 burger joints in the nation for 2014 and 2015. Brooks Gourmet Burgers has two locations that are only located in Naples, and it's something the locals just can't go without.
13. Jane's Garden Café
We had to throw another breakfast restaurant on our top 15 restaurants. You can't beat being in a beautiful area and not enjoying more than one good breakfast. The owners, Jane and Tony moved to Naples 2002 full time after living in London, Frankfurt, Hong Kong, and New York. The have 2 locations in Naples and their goal with both locations is to present a place that encourages healthy living.
14. The Island Gypsy Café and Marina Bar
This place is perfect for getting in the island mood. Take a vacation for only just a meal or enjoy the island views at the marina bar. The Island Gypsy Café and marina Bar is a casual experience that IS great for enjoying nice meal after touring any of Naples hot spots.
15. Jimmy P's Charred
Get the best cuts of meat at Jimmy P's Charred. When you walk in, you will bask in the sweet smell of their in-house cooker. Even at lunchtime, you can sit at the butcher shop and watch how things are done. It's true what they say; Jimmy P's is truly a cut above the rest.