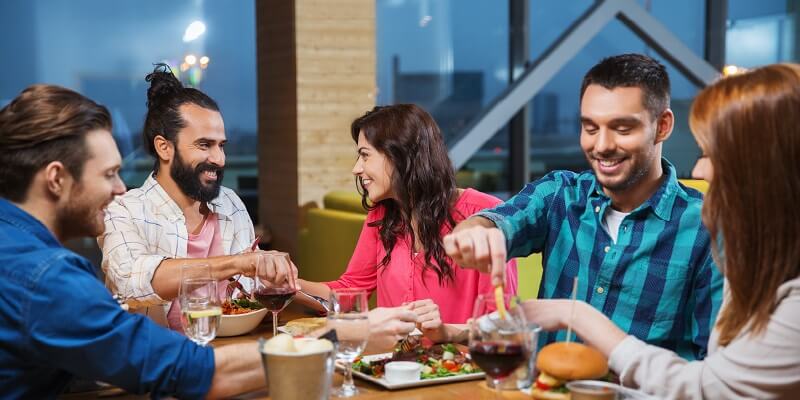 The millennial generation is currently the largest generation of people in America. In 2015, the U.S. Census Bureau announced that Millennials outnumbered Baby Boomers by 500,000 people. The Millennial generation is anyone born between 1982 and 2002. This group of people is also known as Generation Y and Generation Now. They have already graduated from grades K-12, and are either in college or moved on to the workforce.
As a force to be reckoned with, they have influence over both the younger and older generations of people. They were the first generation to be raised with mobile devices and the internet. Millennial trends are more than ever changing the restaurant industry.
Millennials are Evolving the Restaurant Menu
This group of people is changing the supply chain of the U.S. food industry. As one eighth of the country's population, they are moving the concept of cheap convenient food mixed with fat, sugar, and preservatives to heather, organic, vegan, and even gluten free menu options. Fast food restaurants are changing their menu items to include healthier items, and they are being more open with the ingredients in their menu items. Ten years ago, McDonalds had very few, if any healthy menu items. Now they have various salad and healthy wrap options. Millennials don't just want healthier options, they want to know and understand what's in these dishes. This need to understand has challenged many restaurants and fast food chains to give more details on their menu like calorie count in each menu item and every ingredient used.
Millennials are Eating Out More
Studies show that millennials are eating out more than their baby boomer parents. As the generation that lives to connect with people, they are using the dining out experience as more than just eating a regular meal. This generation of young people is still going to fast food restaurants, but they don't want anyone to know about it. McDonalds is still the number one frequented restaurant in America. However, McDonalds has added many healthy food items to their menu over the last few years, and they have also promised to change their beef source. So instead of getting, "do you want fries with that?" You can also get questions like, "do you want fruit with?"
Millennials are Spending More
Premium food products are the new normal for millennials these days. They are willing to pay high prices for food items that are organic or GMO-free food items. They are beating out the older baby boomer generation by miles with buying these premium type food items. Millennials are proving to be one of the most sophisticated generations by their preference of fast casual establishments over quick service. This generation is willing to pay for different. Changing up the meat used in a chicken sandwich won't do it for this bunch. They want to eat at places that fuse like Korean and BBQ.
Millennials are Changing Food Industry Marketing
Millennials are posing a challenge to marketers. Because of technology, it's very easy for a restaurant marketer to its more than just having TV commercials. This generation is captured by a strong digital marketing strategy. It's about which food companies can capture the most real estate on smart phones. What are most millennials doing when commercials come on their TV? They are either checking their smart phone or fast forwarding. Millennials are driven with their need to connect with other people. They greatly value their friend's opinions when it comes to making decisions. Successful restaurants through millennial minds are booming because of successful customer retention. High customer retention is then therefore boosting restaurant referral rates. Since millennials are the largest group on social media, successful restaurants are concentrating their advertising on platforms such as Facebook, Twitter, and Instagram. This allows for this classification of people to heavily interact with your brand from posting pictures of them eating at these restaurants to commenting on pictures of events that took place at these restaurants. Additionally, millennials like establishments that give back to the community and that they advertise it. Millennials are jumping at the opportunity to do their part.
Millennials are Changing Purchasing Methods
Consumers are now shopping with their mobile devices, and cash buyers are dwindling. Millennials especially are using things like Apple Pay or Samsung Pay when they go to restaurants. These mobile payment systems allow your phone to perform a transaction that is similar to a card swipe. More and more restaurants are starting to accept these forms of payment, and they don't seem to be going anywhere anytime soon.
Millennials are Changing Restaurant Technology
Millennials love technology. They've grown up on it, and they are constantly inspiring and inventing upgrades for all business types. For restaurant's, millennials have impacted how orders are taken, the checkout process, delivery, and reservations. Millennials are the reason that online ordering will soon surpass in-store ordering. It gives this demographic of people the convenience they crave. Restaurants have even implemented self-service ordering and checkout kiosks within their restaurants that this age of people cannot get enough of. Millennials are loving how they can take control of their mealtimes.
Millennials are Changing the Sustainability of Restaurants
This crowd loves participating in sustainable efforts and they love hearing about them. They have influenced restaurants to invest in more energy efficient appliances and locally sourced inventory. This generation is buzzing about locally grown food because of their desire to eat everything fresh. More and more restaurants are going local with their ingredients because of this, and it's paying off.