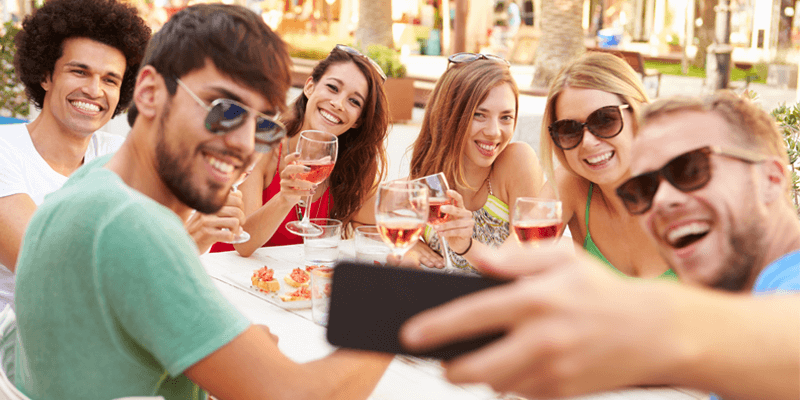 Summer can either be a make or break time for restaurants. Kids are out of school, the weather is warmer, and many people venture out of their usual habits to experience something different. The changing season brings a sense of warmth and happiness to people's personas. With the right strategy, you can identify and target the right customer base to turn your slow summer season into a thriving season.
We have compiled eight easy ways you can attract more customers and boost your restaurant's profits this summer season.
1. Outdoor Space
If you don't have an outdoor space, don't worry. If you do, you will want to make it count. Making it count means adding summertime accents like plants or flowers. If your restaurant is open past dark, you should add some summertime colorful lighting to highlight the theme. Your outdoor space should almost feel like a vacation to your guests, and you will want to prepare for any time of bad situation that could arise. That means having enough space for any spilt food or drinks, having some fans outside for those overly hot days, and preparing for any mosquito invasions that could arise.
2. Indoor Space
Whether it be a customer who needs to escape the heat or rain, having a good indoor space is equally important to having a high quality outdoor space. You can still pull off a summertime vibe in doors as well. Fresh plants and flowers still work indoors, you will just have a different maintenance routine. For your indoor seating, you will also want to make sure you have sufficient lighting. That does not mean having no windows and streaming high florescent lighting. You will want to have a balance of windows to lighting. That way when it is dark and stormy outside, people can still see what they are eating.
3. Menu Items
It's always a good idea to make your menu seasonal. During the summer, try adding cool, refreshing drinks and dishes. Usually people aren't looking to eat something heavy either. Salads are great to empathize and cool drinks like slushies are sure to be a favorite. People also tend to eat healthier in the summer. After all, it is swimsuit season, and people want to look their best. Why not cater to those type of individuals who are looking to lose weight or maintain their current weight. Studies show they are willing to pay more for it.
4. Marketing
There are many different options you can do when running a marketing campaign centered on a summer theme. If sales have slowed, you can get creative with a summer sale or fun promotional idea. If you are offering a summertime only menu, it can be the perfect item to promote. Let people know you are mixing things up, and you're ready for a fun and exciting season. You can add extra eyes on your promotions by going to social media. Adding photos and fun posts about your new menu or fun upcoming events are sure to add increased engagement.
5. Entertainment
People are always looking to do something fun during summertime. Adding some entertainment can add some extra pizzazz your restaurant needs. You should consider implementing something that inspires the outdoors. You can give outdoor grilling a try with a wine or beer tasting. Tastings are extremely popular during the summer months, and they give restaurant owners the opportunity to partner with outside businesses. If you're not into doing tastings, having live music is also a great alternative. People love sitting outside, watching the sunset, and maybe listening to a good Jimmy Buffet song.
6. Events
Take advantage of popular holidays and events during the summer months. As temperatures rise People love an excuse to participate in a celebration. The fourth of July is one of the most popular holidays. People bask in the opportunity to sit outside and watch fireworks. Also, remember that many kids graduated from school in the month of May. Hosting graduation parties can be a great profit booster, while also appealing to the younger generation. Remember that repeat business is crucial in the restaurant industry for survival.
7. Online Ordering
Online ordering is growing more popular by the day. People love the concept of ordering their favorite dishes on-the-go, and picking them when it's most convenient to them. It adds an added bonus to restaurants who used to spend so much time taking orders over the phone. Summertime is one of the highest grossing seasons for online ordering, because it's one of the most active seasons. People are on the go and doing everything in their power to enjoy the most out of the beautiful weather. Why not order your favorite meals and take them with you to the beach or park? With all of this activity, many people will either be walking or driving by your restaurant.
8. Kids
If you are looking to bring in more customers, than kids are always a good customer generator during summer months. They are out of school, and parents are looking for everything and anything to keep them entertained. You should cater some portion of your restaurant to kids, especially if you are open for more than one mealtime. It can be as small as having a kids menu to even having a space for children only to play.
Conclusion
Whether sales are slipping or you're just looking to spice things up, summertime is a great opportunity to bring more customers in and increase your sales. You don't have to over complicate your changes either. As long as you stay consistent with what people are looking for, you are sure to change your restaurant for the better.