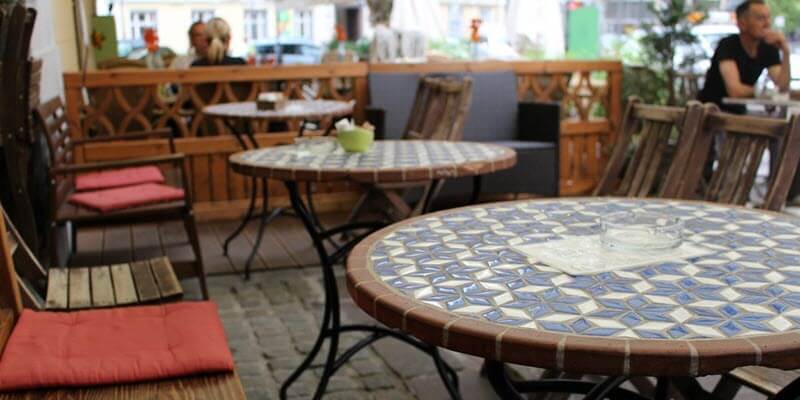 Are you trying to find new, exciting ways to bring more customers into your restaurant? Perhaps you're already doing well and would like to give your existing customers a new experience.
Even if the space in your restaurant building is full, you might have access to a garden or outdoor space that you can clean up and make the most of. Try the following tips to maximise the use of your outdoor space and increase your profits along the way:
Put a few tables in front of your door 
Check with your regional or local laws for seating permissions, but if you can strategically place a few tables by the entrance of your restaurant, you can passively advertise to potential walk-in customers simply by having customers already sitting there, enjoying a meal or a few drinks. People often love watching pedestrians and cars go by while they have a slow meal, so sidewalk seating is sure to be a hit.
Optimize your restaurant flow using a POS system
Depending on the layout of your restaurant, you might be able to set up a waiters' station outside – or you might choose to give your staff tablets to take and send orders instantaneously. Your service will run more smoothly if your staff can send orders to the bar or kitchen without having to head indoors. By strategically placing your point-of-sale systems in your customers' line of sight, you can reassure patrons of your restaurant's efficiency.


Furnish your outdoor area well
Good furniture is an investment, so choose high-quality furniture that will last – you don't want to be replacing chairs and tables every six months. By choosing comfortable furniture for your patrons, you're telling them that you value their business and care about their comfort. Plus, they'll be more likely to stay for another round of drinks or a dessert if they're feeling cosy.
Jon Taffer – an entrepreneur famous for running a variety of restaurants and bars – once said: "any business, no matter what it is, lives or dies by the customer reactions it creates." Wise words to live by for any restaurant owner – Ensure your customer reactions are positive by prioritizing quality over quantity!
Additionally, why not add a touch of originality to start conversations – and more importantly – coming to your restaurant to see the changes for themselves? Swings and hanging chairs used alongside traditional seating, tend to be particularly popular with a younger crowd. If you're lucky enough to have a scenic view from your outdoor area, you'll be sure to attract all sorts of new customers eager to look at something pretty while they share a meal with friends or family.
Make your outdoor area habitable year-round
Customers should be able to use a good outdoor area during all four seasons. During colder months, consider using outdoor heaters and lamps and providing cushioned seating so your customers can enjoy a cosy meal or drink outside. If your restaurant is appealing throughout the year, you'll have fewer days with empty tables in the long, colder months.
In summer, make your outdoor area a place that customers will want to spend the day – in hot climates, this might require the installation of a large fan or a set of umbrellas.  A decent outdoor space should never be taken for granted, so if yours is currently being used to house garbage cans and empty milk crates, it might be time to reassess your priorities. Clear out your outdoor space and make room for your customers!