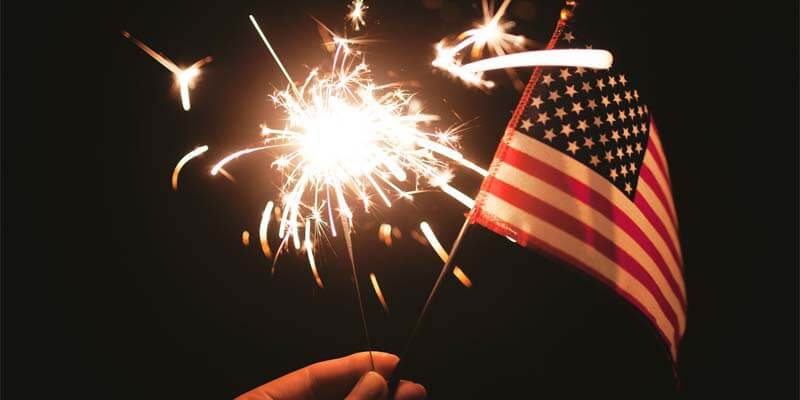 It's almost the Fourth of July, and do you know what that means? That means anyone and everyone is coming out of the shadows to participate in the festivities. People across the United States celebrate freedom and independence for their country. It's one of the most popular holidays during the summertime, and people use it as every excuse to be outside and enjoying the warm weather. As a restaurant owner, it can be a great opportunity for additional profits and more customer foot traffic. Continue reading below for different event ideas you can host at your restaurant to enhance your restaurant's Fourth of July:
1. Host an Outdoor Cookout
Nothing says Fourth of July like hamburgers and hot dogs. According to the President of National Hot Dog and Sausage Council, about 150 million hot dogs are sold over the July 4th weekend. This was in 2015, and research shows that number is expected to rise. That must be why the month of July is known as National Hot Dog Month. Why not give the people what they want and host a cookout at your restaurant? The second thing that people want besides hot dogs and hamburgers is to be outside.
2. Fireworks
It's not Fourth of July without fireworks. You can decide to go big and hire someone to do your fireworks professionally or have a small show that even your customers can participate in. The number one thing you need to be sure to look into is safety. If your restaurant is in a highly urban area, you may just want to sponsor a local event put on by the city. Usually, it is considered illegal for businesses that are very close together to set off fireworks. That's why it's usually common for big cities to use parks as a way to set off fireworks. If you're in a lower populated area or your city doesn't do local firework events, you can set them off at your restaurant or invite people to a second location.
3. Food and Beverage Tastings
Putting on a food or beverage tasting can be an exciting event for potential customers. For Fourth of July, you can do something like coming taste all of our different red white and blue cocktails. If you do a tasting properly then you don't have to worry about guest overindulging. The goal with tasting is for your guests to taste the menu item they like the best and order that item at full size.
4. Host a Music Event
If you plan on having fireworks at your restaurant, remember that people usually show up early because they want to get the best spot. If you add live music, people will have something to enjoy while they wait for the fireworks main event. Local music talent can also bring in fans, which means new customers. Those new customers can result in regular or returning customers because their favorite music resulted in a fun atmosphere on a well-known holiday.
5. Host a Brunch
The best fireworks experiences are usually at night, so you need to have a plan for festivities during the day. A lot of people usually have work off so why not host a brunch? This will give your restaurant a good opportunity to change up the menu and promote different brunch items. You can even make them themed around Fourth of July. You can show off your creativity by using red, white, and blue foods. Don't forget the whipped cream! It goes great on many breakfast dishes.
6. Host a Charity Lunch or Dinner
The Fourth of July is a meaningful holiday in the U.S. where everyone gets together to celebrate how great America is. It makes to be the perfect day to host a charity lunch or dinner. It can create wonderful partnerships with local charities and strengthen your restaurant's reputation in the local community. You can choose to donate a percentage of your sales, have representatives from the local charity speak, or even participants of a charity come and eat at your restaurant at discount or for free.
7. Have a Discounted Offer
Reward your customers for spending their holiday with you, or use a discounted offer as a way to bring in new customers. You can encompass things like buying one meal, get a second free for the families. You can even make your discounted offer a week-long event that leads up the holiday. Say something like come in on the first of Juluy one full entree, then on July 4th get half off a full-priced menu item.
8. Host a Children's Event
The children are out of school, and it's a holiday. The Fourth of July is a popular day for kids because of the excitement and festivities that surround it. You can create a special menu for the kids, and let them participate with sparklers or even doing a costume contest for who can dress the most patriot
ic. Remember your restaurant doesn't have to be next door to Disney World for the kids to enjoy it.
9. Host a Private Party
Private parties can be great for restaurants when people don't want to host an event at their home or personal business. You will want to make sure you have your pricing right before hosting a private event. Some questions you should ask yourself is, how much will staffing cost? How many people not invited to the event will you be turning away? Should I create a prix fixe menu? If you agree to host private parties at your restaurant, you have the potential to bring in new customers who have never heard of your restaurant.
Contact us for our POS solutions.